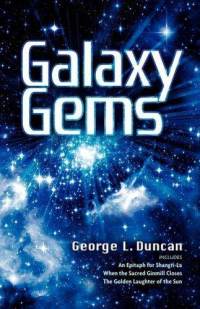 Author:
Ages:
Genres:
BookTags:
Publisher:
Lorehaven may use referral links. As an Amazon Associate, we earn from qualifying purchases.
Love. Honor. Sacrifice. Duty. Blood and Death.
For the Spacehawk squadron members, it's a great life … if you survive.
Eight masterful sci-fi tales by critically acclaimed mystery/detective writer George L. Duncan.
Galaxy Gems: The Spacehawks return to Kali, the closest thing to hell this side of the inferno.
An Epitaph for Shangri-La: Why would a sophisticated, intelligent race commit mass suicide?
The Golden Laughter of the Sun: An afternoon teaseand-tickle leads to meeting the race of Solarians.
We Few, We Happy Few: In the midst of savagery and evil, is it possible to find joy?
When the Sacred Ginmill Closes: McCloud must choose between a gritty, dangerous reality and an eternity of pleasant fantasies.
Counterfeit World: In the frozen world of the Trokans, what's illusion? What's real?
No Eye Hath Seen: What he sees could drive him mad … or forever change what he believes.
The Ponce de Leon Project: To what lengths would you go to live forever?