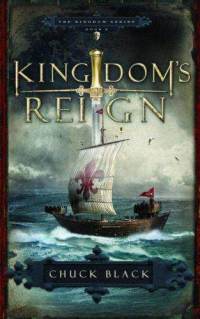 Author:
Ages:
Genres:
BookTags:
Publisher:
Lorehaven may use referral links. As an Amazon Associate, we earn from qualifying purchases.
Not everyone will swear allegiance to the King, and it seems this paradise may be lost yet again because of the pride and greed of evil men who plot to free the Dark Knight and his minions. Book 6 in the Kingdom fantasy series by Chuck Black.
Chuck Black · May 2007 · No comments
· for
teens + young adults
While the Knights of the Prince train in the Kingdom Across the Sea, the Dark Knight, Lucius, reigns in Arrethtrae with complete authority. But when a small group of loyalists swears allegiance to the King, the Prince returns, and in a mighty battle, Lucius and the Shadow Warriors are vanquished and imprisoned in the Wasteland.
Peace and prosperity renew the land, and the Prince rules from the royal city of Chessington. While the heroic Cedric travels as ambassador, he sees that every corner of Arrethtrae reaps the benefits of prosperity brought to the land by the Prince's reign.
But not everyone will swear allegiance to the King, and it seems this paradise may be lost yet again because of the pride and greed of evil men who plot to free the Dark Knight and his minions. Cedric rides desperately to bring the news before it's too late …
Book 6, Kingdom series – young adults medieval fantasy