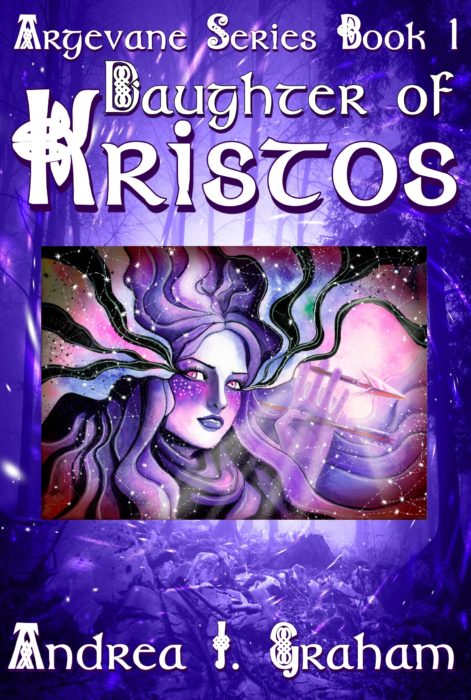 Author:
Ages:
Genres:
BookTags:
Publisher:
Lorehaven may use referral links. As an Amazon Associate, we earn from qualifying purchases.
A captive princess—a prodigal father watching down the road—a bridegroom hungry for redemption—A Purple Earth awaiting Lady Veritas.
Andrea Graham · June 2020 · No comments
·
fantasy
for
adults
On the Sixth Day, Emi created the purple-skinned Argevane and Bion from the purple soil of their world. Emi forbid only opening a portal to the red Earth, the twin to their world located across the heavens in their understanding. Bion disobeyed and opened the portal, unleashing death and every evil. For this, Emi cursed Bion's sons to suffer in matriarchal slavery until the Seed of Eve, Lady Veritas, comes and lifts up their heads. All womankind awaits the coming of Lady Veritas to reveal Emi's Sacrifice. Emi's Chosen People, Diakrinth,also await the Coming One in hopes she will free their nation from the Romini's invasion.
Young Hosanni Kristekon learns God chose her to be the mother of Lady Veritas. The same day, the invaders take her captive and put her virginity on sale at a trade school. Not only would a man worthy to father Lady Veritas not seek a wife among slaves, her religion bars her from salvation if she marries a man who isn't a submissive Emian. Her husband likewise is damned if he isn't her slave. Her dorm mother, Marezza, presents an offer that appears promising. At least it does until she sends Hosanni home with the free-spirited, unreligious enemy prince that Marezza forgot to mention she was married to on paper.
Book 1 of the Argevane Series series.