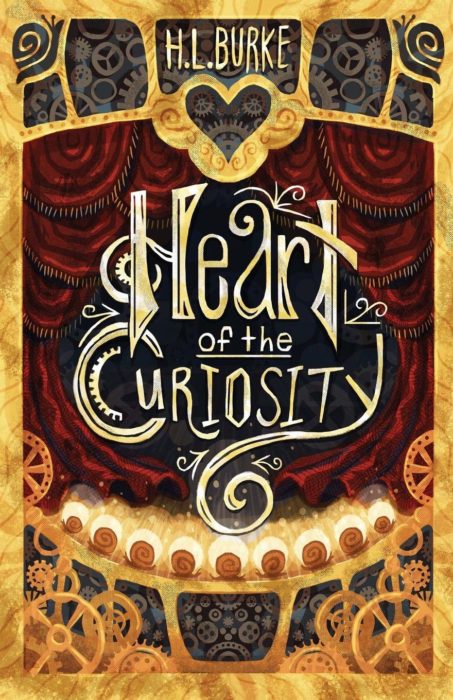 Author:
Ages:
Genres:
BookTags:
Publisher:
Lorehaven may use referral links. As an Amazon Associate, we earn from qualifying purchases.
The secret lies with the Heart.
Born with a magical knack for manipulating emotions, Leodora's only dream is to ensure her talented little sister dances on the biggest, brightest stage in the Republic: The Curiosity, a grand old theater of tradition and innovation. After escaping a cruel carnival, Leo secures her sister a place in the Curiosity's chorus line, and herself a job as a professional audience member, swaying the crowd's mood with her magic. The girls have a home for the first time in their lives.
Then a tragic accident darkens the theater. A greedy businessman begins blackmailing Leo, and financial woes threaten to close the show forever. The Curiosity's sole hope lies in a mythical power source hidden beneath the maze-like passages and trapdoors of the theater—the Heart. And Leo's only friend Paxton, nephew of the theater's stagemistress, is the key to finding it.
While Leo and Paxton hunt for the Heart, the blackmailer's threats loom larger. Mysterious figures, cryptic clues, and deadly traps hinder the search at every turn. If the friends cannot recover the Heart in time, Leo and her sister will be cast out of the only home they've ever known, and the final curtain will fall on The Curiosity.
Biblical themes dazzle and heroines must heal from harm throughout the wonders of H. L. Burke's The Heart of the Curiosity.
Lorehaven Review Team
, 2021
Magical ability, or knack for trouble? Leondra and little sister Muse are young orphans in H. L. Burke's young-adult novel Heart of the Curiosity. They both escape from a carnival and flee to the biggest theater in the city, the Curiosity. In a beautifully drawn steampunk world, everyone has a "knack." Muse, a dancer, can levitate. Leo hates her own knack for influencing emotions— the carnival boss used her to get people to buy tickets. Surely it will be different at the Curiosity! Leo just wants to protect her sister, not herself, but as mystery and romance unfold it becomes apparent she needs inner healing from abuse. Can Paxton, part of the quirky family that runs the Curiosity, team up with Leo to find the theater's fabled power-source, while helping her see her future? Biblical themes dazzle throughout the wonder at the heart of this tale.
Best for: Teen readers and older.

Discern: Violence and moral complexity, such as when people kill in self-defense but then hide the deaths from corrupt police.