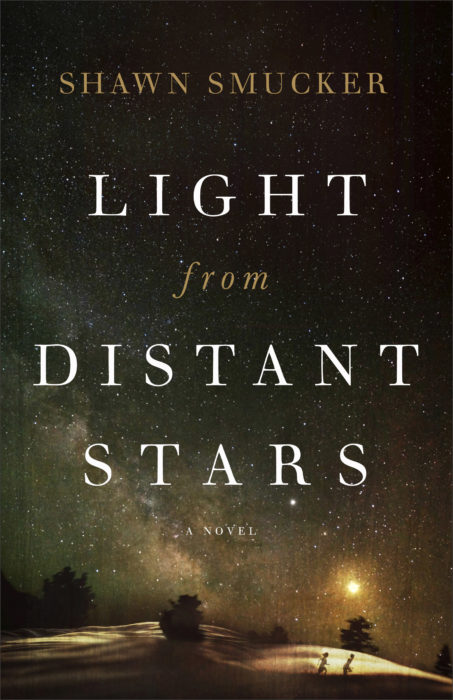 Author:
Ages:
Genres:
BookTags:
Publisher:
Lorehaven may use referral links. As an Amazon Associate, we earn from qualifying purchases.
When Cohen Marah steps over his father's body in the basement embalming room of the family's funeral home, he has no idea that he is stepping into a labyrinth of memory. As the last one to see his father, Cohen is the primary suspect.
Over the next week, Cohen's childhood memories come back in living color. The dramatic events that led to his father being asked to leave his pastoral position. The game of baseball that somehow kept them together. And the two children in the forest who became his friends–and enlisted him in a dark and dangerous undertaking. As the lines blur between what was real and what was imaginary, Cohen is faced with the question he's been avoiding: Did he kill his father?
In Light from Distant Stars, master story weaver Shawn Smucker relays a tale both eerie and enchanting, one that will have you questioning reality and reaching out for what is true, good, and genuine.
Fathers and sons. Fathers and sons. They're everywhere.
Entire Bible chapters regale readers with lists of fathers, who beget fathers, who beget even more fathers. Apostles encourage fathers in passages like Colossians 3 and Ephesians 6. And, of course, Jesus himself identifies as a Son to God the Father.
On the manmade front, many movie and TV screenwriting bibles may list "just add father issues" atop their twelve-step recipes for assembling a fantasy or emotional drama. And among Christians, some leaders focus exclusively on father issues, with a few even speaking as though all men have a "father wound" that must be healed.
Thanks in part to societal family breakdown, many people do have such wounds. Which is just the theme of Shawn Smucker's latest novel, Light from Distant Stars.
Like the titular light itself, this story travels fast, but takes its time before reaching its final destination. We open with Cohen Marah in the basement of his father's funeral home. On the floor lies his father. Dead? Or nearly dead? Either way, why?
From here, however, the story with present-day scenes and flashbacks reveals less interest in the technical, murder-mystery details. Instead this investigation focuses on the slow and tragic death of Cohen's relationship with his father. In particular, Cohen's childhood of sticky summers, dull sermons, and baseball practice becomes dimmed by his confused feelings about a certain Sunday school teacher. Then his world is darkened by his father's adult-level sin, which ruins his family and the local church.
Smucker portrays these events with delicacy yet brutal honesty. People have issues. Churches have even more so. But lest we fall into yet another "Southern Gothic" trap of literary darkness, where good men can't be found and every church closet holds skeletons, Distant Stars shines its light. Angry mothers can still cling to faith. And even adulterous fathers might still know to give good gifts to their children.
The Father who set this light in motion won't let it be eclipsed unless he wills it so.
Still, this isn't a simple or obviously God-directed journey. Nor does the trip stay confined to "safe" places like rural small towns. Because even as Cohen recalls his family's breakup, he also draws on childhood memories of an escaped arsonist. Next comes a creeping, supernatural slime-creature. Finally, Cohen is joined by two other children—real? symbolic? imaginary?—who help pursue this beastly foe.
Shawn Smucker is the author of the young adult novels The Day the Angels Fell and The Edge of Over There as well as the memoir Once, We Were Strangers. He lives with his wife and six children in Lancaster, Pennsylvania.

ShawnSmucker.com
@ShawnSmucker

Explore this novel at lorehaven.com/library/light-from-distant-stars.
All the way, Smucker helps us believe these unearthly things with devoted, literary attention to earthly things. Like a child's waking discovery of complex relationships. Or the adult monotony of waiting on medical staff. Or the faraway reassurance of whatever light enters this world. It shines through smaller things, like life-and-death contemplations that break through our distractions, or greater things, like the calm aid of an Episcopal priest who accepts Cohen's confessions and points him to Jesus.
By this story's end, Smucker lets just enough light fall to show a possible way out. No, the supernatural-like memories don't always get explained. Nor do the human abuses and manipulations that can wound the hearts of marriages or children.
But for readers who must continue imagining their way through such trauma, or need to accompany loved ones who do, Light from Distant Stars is a Godsend. In the real world, we need more than platitudes or devotionals to help us heal. Instead, to start imagining our way through any family trauma, in the light of our Father and his truly good gifts, we need more fierce and compassionate stories like this one.
Best for: Older teen and adult readers, who are prepared to grapple with intense social drama that overlaps into literary, magical realism–like fantasy.

Discern: Young boy experiences early sexual attraction, described in emotional and not prurient terms; child witnesses act of adultery, only outlined at a distance; and in-depth exploration of abandonment, some emotional abuse, and estrangement.