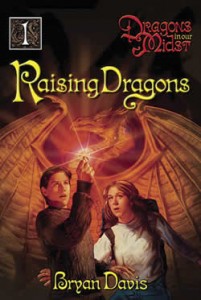 Author:
Ages:
Genres:
BookTags:
Publisher:
Lorehaven may use referral links. As an Amazon Associate, we earn from qualifying purchases.
A boy learns of his dragon past; a girl has known of hers for years.
The kids at school call Billy Dragon Breath for good reason. His breath is bad! It isn't the normal, morning-mouth bad; it's the hot-as-fire, don't-you-dare-get-near-me bad. Trouble erupts when his hot breath sets off the fire sprinklers in the boy's restroom at school, and his parents learn that they've kept their secret for too long.
Billy finally discovers the secret. His father was once a dragon! Now that's a piece of news a guy doesn't deal with every day! Billy feels betrayed, alien, lost. When the dragon slayer traps him on a cold mountaintop in West Virginia, Billy learns to battle with weapons of steel and spirit while relying on a power he doesn't understand, a power that helps him learn to trust again.
Bonnie, an orphan, tries to find a home, someone to love her, even though she feels like a freak because of a body feature that she calls a deformity. But this unusual feature becomes a life-saving attribute as she discovers that her love for others and her faith in a creator hold the answers she's looking for.
Book 1, Dragons In Our Midst series — middle grade/young adult contemporary fantasy.