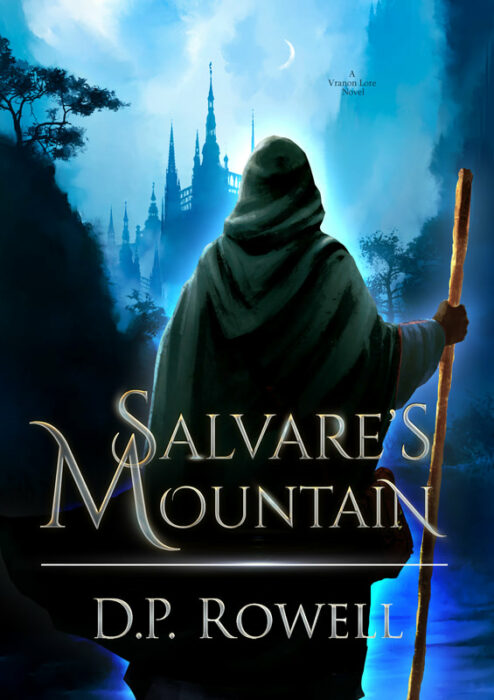 Author:
Ages:
Genres:
BookTags:
Publisher:
Lorehaven may use referral links. As an Amazon Associate, we earn from qualifying purchases.
Gideon can dream in alternate realities, but he'd give anything not to.
Those who can dream like Gideon must devote themselves to the grey—a magic the citizens of Anchorton crave like starved animals.
The masters known as the bards have everyone eating out of the palm of their hands, but Gideon knows better. The grey stole everything he ever he ever loved from him.
Determined to get it back, he must convince those he loves that life is somehow more blessed without this addictive magic, but in his attempt to purge such a magic from the city, his dreams force him to face a truth he refuses to believe.
His gift with the grey runs deeper than any before him.
Now he must choose. Give in to the grey? Or start a revolution.
Book 1 of the Vranon Lore series.
In Salvare's Mountain, D. P. Rowell creates a fantasy shaded with allegory and anarchic worldbuilding.
Lorehaven Review Team
, 2021
Gideon Wellington has a dream, and that dream is to destroy the bards. They have the mysterious power of the Grey, but he has ingenuity and a couple of engineers. He expects some opposition. Instead, the bards make him an offer too good to refuse. In Salvare's Mountain, D. P. Rowell creates a fantasy shaded with allegory. His worldbuilding is anarchic, combining T-shirts with top hats and swords with horseless carriages. Although never explicitly religious, the novel debates good and evil and recalls biblical stories in the legends of its world. The plot seems obvious in some ways but still holds a few tricks. Some readers may be put off by the abrasive hero, but others will appreciate the unique world and the narrative's poignant conclusion.
Best for: Fans of fantasy and young-adult fiction.

Discern: Several battles, a man discovers the bodies of his murdered friends, one character discusses the suicide of a loved one, and the hero engages in a kind of blood magic.