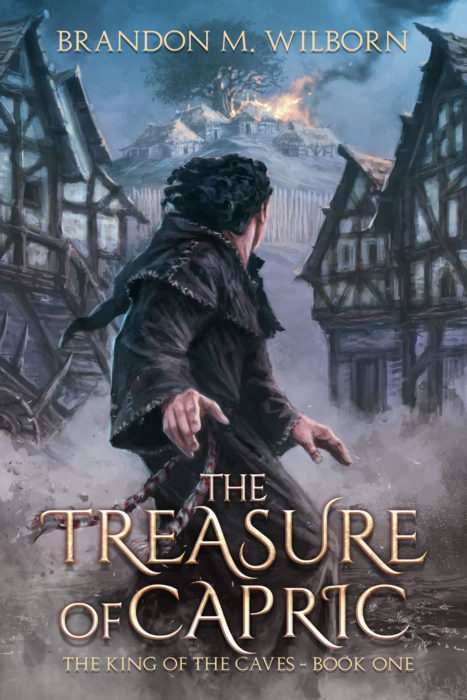 Author:
Ages:
Genres:
BookTags:
Publisher:
Lorehaven may use referral links. As an Amazon Associate, we earn from qualifying purchases.
A fabled treasure disappears.
Can a failing order of warrior-monks stop a tyrant from gaining ultimate power?
When he was seven years old, Kurian Abramson entered training with the legendary Capric Monks, vowing to protect the Capric Treasure with his life. But he doesn't know what he's guarding. The treasure veiled in prophecy is a mystery even to the monks.
Every day of Kurian's youth swings between brutal combat training and quiet study of the Order's religious teaching. He knows the withering monastery doesn't live up to the heroic legends he heard as a boy. But he longs to prove he's worthy of the honor that protecting the treasure still affords.
But when an ambitious, tyrannical noble razes the monastery, they discover that the treasure is missing. Kurian must get it back or lose everything he trained for.
The only clue points to an outlaw known as the King of the Caves.
Guided by a female spy with a secret and hunted by the noble's top officer, Kurian's journey becomes a race that pits him against soldiers, witches, and deadly mythical creatures. His quest will test his training, friendships, and faith.
Can Kurian restore the treasure? Or will his world fall under the curse of 1,000 years of darkness?
Book 1 of the The King of The Caves series.
With The Treasure of Capric, Brandon M. Wilborn blends Brother Cadfael with Prince Caspian to conjure a complex, lived-in world.
Lorehaven Review Team
, fall 2019
When a sacred treasure goes missing from its vault on Capric Hill, the monks sworn to protect it mount a recovery mission. But as they venture farther from home, they're faced with the fact that their brotherhood shares culpability for the land's barrenness. With The Treasure of Capric, first installment in the King of the Caves series, Brandon M. Wilborn blends Brother Cadfael with Prince Caspian to conjure a complex, lived-in world populated by fully realized characters. Novices Kurian, Rhys, and Tobin must fight, sneak, and negotiate their way across a derelict and usurped kingdom. But is the outlaw they pursue a dire threat or their only hope of restoration? Biblical allusions flourish without intruding, and, though the plot may grow too convenient toward the end, the story manages to capture a precious treasure indeed: a fantastical feeling of genuine awe.
Best for: Older teens and adults seeking traditional fantasy with vivid worlds and thematic depth.

Discern: Strong bloody violence, mild profanity, some sexual situations involving witches and sirens.