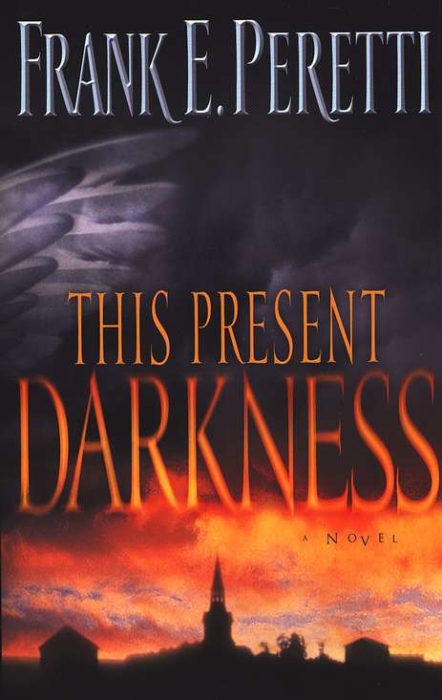 Author:
Ages:
Genres:
BookTags:
Publisher:
Lorehaven may use referral links. As an Amazon Associate, we earn from qualifying purchases.
Ashton is just a typical small town. But when a skeptical reporter and a prayerful, hardworking pastor begin to investigate mysterious events, they suddenly find themselves caught up in a hideous New Age plot to enslave the townspeople, and eventually the entire human race. The physical world meets the spiritual realm as the battle rages between forces of good and evil.
Although at times cheesy, Frank E. Peretti's pictures imbue the ordinary with cosmic significance.
Austin Gunderson
, spring 2020
In the early 1980s, "Christian speculative fiction" wasn't a thing. Sure, Pilgrim's Progress and Ben-Hur were staples in Christian libraries, and J. R. R. Tolkien and C. S. Lewis were giants. But fantastical fiction targeted specifically at a Christian audience hadn't come into its own.
That all changed when struggling former pastor Frank E. Peretti's This Present Darkness was published in 1986.
Peretti's supernatural thriller begins in Ashton, a small college town on the northwestern plains. One wouldn't consider this place as ground zero for a demonic conspiracy to dominate the globe. But the essential conceit of Peretti's story is that human action affects the spiritual plane, and vice-versa.
Two men anchor the narrative's physical dimension. Marshall Hogan is a big-time reporter who naïvely thought his new gig as editor of the Ashton Clarion would help him settle down and reconnect with his family. Hank Busche is a young pastor with a knee-jerk prayer instinct who can't comprehend why his tiny congregation is so disrupted by his fidelity to God's Word. When local officials start acting strangely, and things start going bump in the night, the two men find themselves drawn into a conflict for which neither is fully prepared. For evil is hard at work in Ashton—an evil that will threaten their relationships, their livelihoods, and ultimately their lives.
But that's only half the story. The other half unfolds in a spiritual realm of persistent violence and high adventure. For mighty Tal, captain of the Host of Heaven, has arrived in Ashton to foil the schemes of Ba'al Rafar, demon prince of Babylon. Outnumbered and outmatched, Tal must use subterfuge to counter Rafar's hordes. He must rely on human beings.
Peretti imagines what spiritual warfare might look like, to human eyes that can see like Elisha's in 2 Kings 6. For this end, Darkness draws heavily upon the imagery of demonic principalities and martial messengers found in Daniel 10. Although at times cheesy—for example, the story uses "prayer cover" as the equivalent of air cover—Peretti's pictures imbue the ordinary with cosmic significance.
Indeed, the novel's realism and authoritativeness ended up influencing the prayer-warrior movement within the evangelical and charismatic church. For his part, however, Peretti himself never touted his depictions as prescriptive, and eventually shifted from angels-vs-demons stories to other flavors of paranormal fiction.
The prose is best described by that now-cliched adjective "cinematic." Its lavishly rendered visual detail and dynamic action choreography charge it with a heightened sense of immediacy. But it's also a slow-burn detective thriller that explodes into a rollicking melee of interspliced realities, leaving resonant questions echoing in the reader's mind: How does one differentiate between the world, the flesh, and the devil? How powerful is prayer, really? And can God really accomplish his will through even the wickedest forces in the heavenly realms?
Although the villains' strategies—neopaganism and the New Age movement—may seem dated today, these social and rhetorical tactics will feel all too familiar to culture-war veterans. Double standards of moral purity? Disingenuous calls for tolerance and inclusion? A numbing insistence that resistance is aggression? Whatever it takes to secure an advantage, that's what the Enemy will employ.
In the face of such guile, heroes can't always look respectable. It's no accident the angels must sneak in under the radar while the demons get to descend from above. It's also no mistake that enemies have turned Ashton's most prestigious institutions into strongholds of darkness. This is a hostile, post-Christian environment in the heart of Americana. Here even the smallest acts of faith can demand great courage and elicit great reprisal. Let the savvy reader discern the implications.
But God is sovereign even over darkness, and small deeds of faithfulness make a difference. This Present Darkness's publication may have seemed insignificant at the time, but its effect—much like that of its heroes—shook the status quo to its core.
Best for: Adults seeking a spectacular paranormal thriller with spiritual insight.

Discern: Strong stylized and bloody violence; frightening and disturbing imagery; sexual innuendo; references to sexual assault; depictions of occult practices.