Allan and Aaron Reini offer their debut novel "Flight of the Angels" for free on Amazon Kindle.
E. Stephen Burnett on May 19, 2014
·
2 comments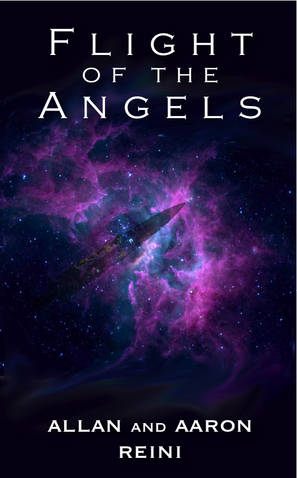 This in from authors Allan and Aaron Reini (Alan wrote On Raising A Family of Nerds here at SpecFaith):
Father and son writing team Allan and Aaron Reini are offering their debut novel, Flight of the Angels, for free on Amazon Kindle this weekend.

Ben Avery of Strangers and Aliens has called Flight of the Angels a big space opera military action story, with elements of corporate espionage, that has a spiritual theme woven into the plot."

Avery continued. "It's a thoughtful book. It's an exciting book. There's a lot of space battles, dog fighting . . . but then there's also the hard sci-fi that reminded me of old Asimov and Heinlein books. It's just an enjoyable, and surprising, read."

Like many novels in the Christian Sci-Fi genre, Flight of the Angels is self-published. While interviewing the Reinis on The Sci-Fi Christian podcast, hosts Matt Anderson and Ben DeBono discussed some common pitfalls of self-publishing, including poor editing and inconsistent quality.

In reviewing Flight of the Angels, DeBono went on to say, ""If you're someone like me, who is wary…doesn't like self-publishing, doesn't like Christian fiction, doesn't like first novels…this novel bucks those trends, big time…It's well worth reading."

You can download Flight of the Angels for free from Amazon this weekend through Tuesday, May 20.