Creators will return to St. Louis in July 2023 for workshops and awards banquet.
E. Stephen Burnett on Feb 1, 2023
·
No comments
POTTSTOWN, Pa., Feb. 1, 2023—Hundreds of writers who create fantasy, science fiction, and other stories will join the Christian-led organization Realm Makers for its eleventh annual conference this July 13–15 in St. Louis, Missouri.
Authors can register at RealmMakers.com for the event. They can choose to attend in person at the Sheraton Westport Chalet Hotel or online as well as livestreaming on the dedicated RealmSphere social network.
"We at Realm Makers have enjoyed the privilege for over a decade of connecting Christian creators to one another and to opportunities in the publishing marketplace," said co-owner and CEO Rebecca P. Minor. "We're not just about bringing expert faculty to the conference for teaching, although that's one of the pillars of what we do. We've also discovered that a writer's success is tied into relationships, one way or another. The annual conference offers a supportive environment where authors can take the next step in their creative journey."
Authors can learn and connect at the conference. They also have opportunities to pitch their unpublished work to organizations looking for speculative fiction. Whether an attendee is seeking a Christian publisher or a general market agent, they'll find options on both sides of the publishing industry.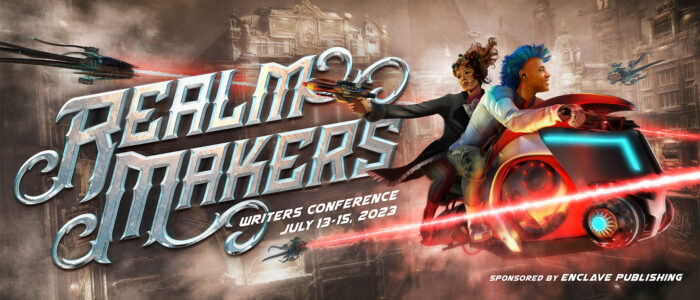 Three fiction industry veterans will share keynote addresses this July.
Steve Laube has over forty years' book experience as an editor at Bethany House Publishers and founder of the Steve Laube Agency. His agents represent books in many different genres, yet Laube as president of Enclave Publishing releases exclusively Christian-created fantasy and science fiction novels. In early 2022, that publisher was acquired by Oasis Family Media. Enclave also sponsors this year's Realm Makers event and is planning future expansion.
Steven James is a national bestseller whose award-winning thrillers continue to gain wide critical acclaim and a growing fan base. His latest novel, near-future thriller Synapse, was a finalist at the International Book Awards in the science fiction category. His books on the art of fiction writing, Story Trump Structure and Troubleshooting Your Novel, have both won Storytelling World Awards. He regularly teaches master classes at suspense writer event ThrillerFest.
Tricia Goyer has written over seventy contemporary and historical novels as well as nonfiction resources about faith and family. Her titles have gained USA Today bestseller status, two Carol Awards, and a Retailer's Best Award. Goyer was also nominated for the ECPA Gold Medallion and a Christy Award, and won Writer of the Year from the Mt. Hermon Christian Writers Conference. She and her husband have ten children, including seven by adoption.
Minor said Realm Makers selects keynote speakers based on candidates' industry expertise and sensitivity to spiritual elements pervading the creative process. Their goal is for writers to depart the conference equipped, encouraged, and inspired.
Goyer will also teach a teen track geared toward younger creatives. Attendees can learn more about novel creation through classes taught by experienced faculty:
Parker J. Cole, fantasy and historical romance author
Shannon Dittemore, young-adult fantasy author
Kirk DouPonce, professional book cover designer
Mary Driscoll, film critic, ghostwriter, Hollywood script analyst and judge
Sara Ella, fantasy novelist
Kristy S. Gilbert, designer as well as editor for three different companies
Tara Grayce, romantic fantasy author
Carla Hoch, Writer's Digest author and fight-scene specialist
Charlie N. Holmberg, fantasy and romantic fiction author
Rowena Kuo, CEO, executive editor, and producer of Brimstone Fiction
Donald Maass, Donald Maass Literary Agency founder
Rebecca K. Reynolds, author and editorial director of Oasis Family Media
Daniel Schwabauer, science fiction author
At 7 p.m. Friday, July 14, attendees and faculty are invited to celebrate their favorite stories at the Realm Awards banquet. Organizers encourage guests to celebrate their favorite stories in costume. Realm Makers will announce winners in several categories for the best genre novels, audiobooks, and stories released in 2022.
Visit RealmMakers.com for more event information, including updated lists of faculty members, conference fees, available classes, and attendance figures.
About Realm Makers: Realm Makers began in 2013, and from small origins has grown to serve thousands of Christian fiction authors online and at annual conferences. Faculty members have included bestselling novelists such as Frank Peretti, Ted Dekker, Tosca Lee, Brent Weeks, and N. D. Wilson. Realm Makers exists to help creative Christians in their journeys, providing education in craft, connections with industry professionals, and strategies for finding readers who love these kinds of stories. Meanwhile, the Realm Makers Bookstore offers a curated collection of speculative fiction from Christian authors, traveling to events such as homeschool conventions and renaissance fairs.
Where
Sheraton Westport Chalet Hotel
191 Westport Plaza
St. Louis, Mo. 63146

and livestreaming on the RealmSphere
When
starts Thursday, July 13
concludes Saturday, July 15