Realm Makers is starting a new mobile bookstore for fantasy and sci-fi conventions.
Realm Makers is starting a new mobile bookstore that will travel to fantasy and sci-fi conventions, and to any place where people come together to geek out over speculative fiction.1
Their inaugural event as an exhibitor will be Salt Lake Comic Con, from Sept. 21-23.
Authors Kerry Nietz and Catherine Jones Payne will be on hand to sign books all weekend. They will have over 2,500 books in stock of over 60 different titles by over 25 different authors!
Use hashtags #RealmMakers and #SLCC17, and follow RM Mobile Bookstore on Facebook.
Realm Makers will also showcase speculative novels at World Fantasy 2017 (Nov 2-5) and PhilCon 2017 (Nov 10-12).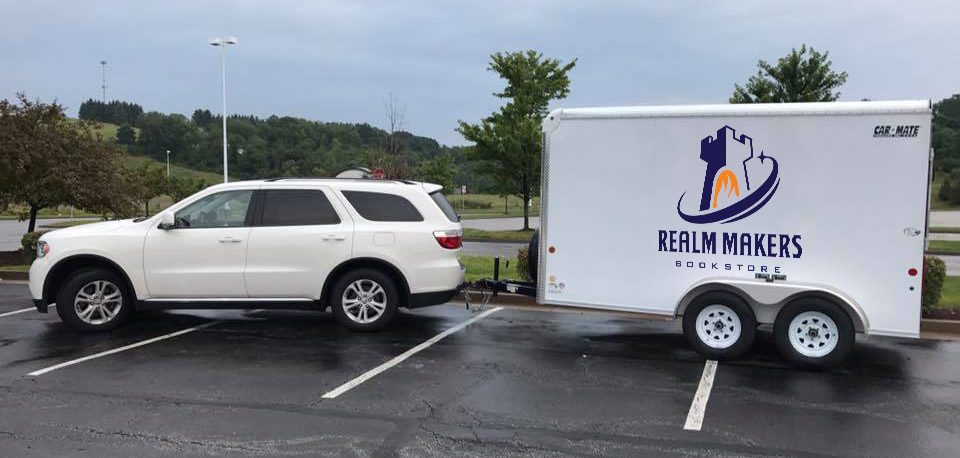 About Kerry Nietz:
Award wining author, Kerry Nietz will be on hand to sign copies of his Epic Award-winning science fiction novel Amish Vampires in Space. This will be Nietz's first ever appearance at a convention. AViS has been mentioned on the Tonight Show with Jimmy Fallon, The Washington Post, and last month on Buzzfeed "25 Amazing Books You'll Want To Buy Just For The Title." Nietz's new release, Frayed, just won the 2017 Realm Award for Science Fiction as well as Book of the Year.
About Catherine Jones Payne:
Mermaids. Murder. Mayhem. Plunge into a YA fantasy that New York Times bestseller Tosca Lee calls "artful," "compelling," and "powerful" with "an ending you won't believe." Meet Breakwater author Catherine Jones Payne, soak in the wonder of Kirk DouPonce's Spectrum 24-featured cover art, and immerse yourself a tale of intrigue, social tensions, and unfathomable choices.
Based on information obtained from Realm Makers. ↩