From evil spirits to end-times Vikings, and from flooded spooks to weird vanishings, Christian fans can explore these hallowed haunts.
L.G. McCary on Oct 18, 2021
No comments
Spooktober is upon us!1 I know this season isn't for everyone, but I'm a fan of spooky stories that send chills up my spine. It can be hard to find chilling fiction that reflects Christian values. So I've made this list for my brothers and sisters who enjoy a good scare. All books are either specifically Christian or written by a Christian from a biblical worldview. And yes, Frank Peretti comes first on my list.
In This Present Darkness, the small town of Ashton becomes the center of a war between angels and demons as New Age occult practices creep into the town and even the church. In Frank Peretti's sequel Piercing the Darkness, this battle continues, with an even darker conspiracy of Satanic rituals.
These are classics of Christian fiction, and if you haven't read them, you've still probably heard of them! I'm a huge Peretti fan, and these books proved formative for me. When I picture demons, they look like the toad-ish creatures he describes. One scene shows demons hiding in the walls, and I remember putting the book down as a teen and deciding I would sleep with my light on.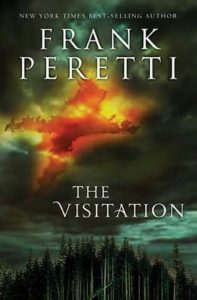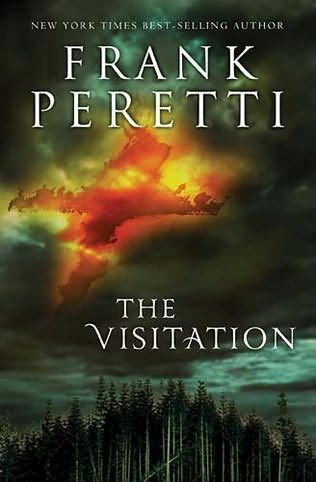 Travis Jordan, a burned-out former pastor hiding in a small town, must confront  a self-proclaimed prophet's supernatural healings and signs that captivate his community. But does this new prophet bring God's truth? And what will it take to pull Travis back into the fight?
I read The Visitation in high school. Ever since then, certain scenes have haunted me. When I see certain televangelists, I frequently think of bread filled with maggots. Now that I'm a minister's wife, these images hit a little closer to home.
The Visitation shares a lot to unpack, especially if you're a Pentecostal/Charismatic. This month, I'm looking forward to reading it again.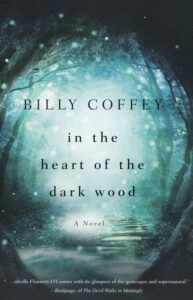 In the Heart of the Dark Wood by Billy Coffey
This harrowing story follows two tween friends, Allie and Zach, who go looking for something in the woods. In the winter. Without any adults to help them. You can imagine how things go horribly wrong and keep going even more horribly wrong.
At one point in this story, I gasped aloud and nearly woke up my husband. Now I'm a little more careful about reading Billy Coffey's books at night. His story presents much more than a spooky thriller. Coffey will lead you through the human heart's ugly raw places, dragging you into darkness and unanswered questions until you don't think you can take any more. Then he pokes you in the shoulder, and you look up to see the sun is rising, and you find that somehow you've made it home.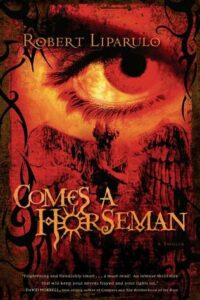 Comes A Horseman by Robert Liparulo
Two FBI agents are pursuing a killer that thinks he's a Viking, but they soon realize they have become his new prey. Combine the Vikings, people who claim near-death experiences of Hell, and a cult surrounding the Antichrist's arrival, and you get Robert Liparulo's Comes a Horseman. I still don't know how Liparulo made all these disparate elements so cohesive and thrilling, but it's a great spooky read.
Beware! Liparulo gets a bit gory, and if you're squeamish, you might not like that.
My favorite moment is actually a funny one: a character who had a near-death experience paints a wastebasket to look like the fires of Hell.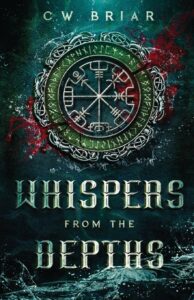 Whispers from the Depths by C. W. Briar
Betka is a Whisperer who can communicate with water spirits. She can protect people from diseases by purifying wells, and she can prevent other attacks and drownings. She's also a slave, treated as less than a dog. When a powerful ocean spirit attacks the castle where Betka's sister serves as a Whisperer, she finds herself on a dark and dreadful trip to save the very people who have enslaved her.
This dark fantasy will make you suspicious of water for a good long time. It is filled with themes of faith, sacrifice, and turning the other cheek. It's another story that isn't for the squeamish, especially when the characters finally reach their intended destination. The bitter but inevitable ending will sock you in the gut in the best way.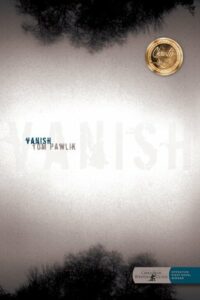 Vanish by Tom Pawlik
A mysterious storm causes almost everyone on Earth to vanish, leaving four people alone in an world that isn't quite right. Other beings lurk in the shadows, and they grow more aggressive. Soon the four survivors are fleeing for their lives on a dangerous road trip. But the mystery of this uncanny world isn't easily solved.
Vanish is definitely in the vein of The Twilight Zone, offering scares that are more existential than direct. I'd never heard of the Stephen King's The Mist when I first read this book, but some Vanish scenes now remind me of that movie. Pawlik asks a lot of uncomfortable questions, and I remember thinking, "Is there any way this will ever make sense?" That's probably why this book won a Christy Award in 2009.
Wickers Bog by Mike Duran
Julene has a gift, but probably not one you'd want. Many years ago the Lisenby Plantation was flooded by the dark waters of Wickers Bog, trapping the lady of the house upstairs. Only the weather vane remained above the water. But when Julene passes the submerged house one evening, she sees strange lights deep inside and hears a ghostly song, as if the Lady of Lisenby is inviting guests for a long visit.
This short novella combines Southern gothic creepiness with a unique character voice. I was drawn into Julene's character along with her uneasy relationship with her brother. Duran has written lots of other creepy stories that I didn't read in time to make this list, but I think Wickers Bog will always be my favorite.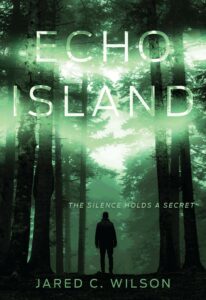 Echo Island by Jared C. Wilson
I'm not going to lie: this book is a weird one. Four high school seniors go on a camping trip at a state park on the mainland, and when they return via ferry to their home on Echo Island, the island is completely empty. The electricity is off, everyone has vanished, and when they turn back, the mainland has disappeared. And that's just the beginning.
To keep being honest: I want other people to read this book just so I can talk to them about the ending. On the surface its premise sounds similar to Tom Pawlik's Vanish, but these are two very different books. Echo Island's scare level is mild because the story focuses more on philosophical and theological questions. But please, someone else read this, so we can be confused together and debate what it all means. Echo Island is near-impossible to discuss without spoilers!