The Guardian tries a hatchet job on author N. D. Wilson, Christ Church, and the very concept of Christian engagement with popular culture.
Ever since Christ came to Earth, his Church has held a tenuous relationship with culture. Christians have balanced on the "being in the world but not of the world" tightrope for generations.
Thankfully, we've moved past the era of hand-wringing about "the devil's music" and issuing edicts against movie-going and video games. Churches now form their own independent film companies and publishing presses. Some host Super Bowl parties and Halloween alternatives, and freely employ pop-cultural iconography for instructional or evangelistic ends. Some Christians call this "plundering the Egyptians" (Exodus 3:20–22), using the world's resources for God's kingdom.
But apparently, some of those "Egyptians" are catching onto us.
The Guardian attacks N. D. Wilson and related Christian creators
London newspaper The Guardian has been publishing a multi-part exposé of Christ Church, led by Douglas Wilson, in Moscow, Idaho. The Guardian sounds the alarm about this "ultra-conservative church" and its expansionist mission, and openly frets over the idea that "social conservatives aim to gain traction" in society. Even more appalling, these barbarians seek to engage "mainstream popular culture":
… A new generation of male church leaders – including Wilson's son [fantasy author N. D. Wilson] – have found ways to expand the church's reach in Moscow and beyond, even gaining footholds in mainstream popular culture in the broader US.1
By the third installment on Nov. 28, the exposé writer reveals the church's plan of attack with the sensationalistic headline, "US Christian right group wages culture war with books, cartoon and nature doc." It seems this church is "seeking to use television and book publishing to enter US popular culture and promote its interests." Not only that, Christ Church associates are crowdfunding "a creationist nature documentary," even as they market "young adult fiction through a mainstream publisher" and create the book (and Netflix series) "Hello Ninja!"
Shocking, I know.2
Professing Christians may enable such secular critiques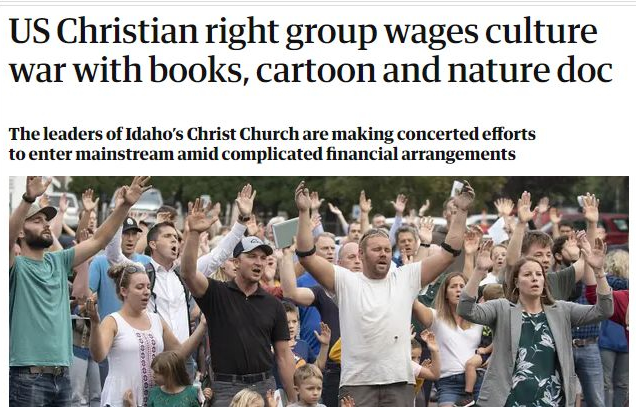 The article quotes Kristin Kobes du Mez, professor of history at Calvin University. She also authored Jesus and John Wayne, a critical and rather uncharitable look at the history of evangelicalism and "patriarchy" in the United States.
Asked about Wilson's publishing and media enterprises, Du Mez said:
"Conservative evangelicals have a long history of advancing their religious and political values through popular culture."
She added that evangelicals produced media for other evangelicals seeking to shield themselves and their families from the "corrupting influences" in secular culture. As a result, Du Mez suggests "it's always good to follow the money."
"Since there is a captive market that has been told to distrust 'secular' culture, there is a lot of money to be made in producing religious-themed products, particularly those aimed at conservative audiences," Du Mez concluded.
Du Mez's critique proves fascinating for several reasons.
First, secularists have spent decades using media to shape and influence mainstream culture. All our major institutions—academia, Hollywood, the arts, Big Tech, social media—are currently held by ideological progressives. When some Christians finally realize that culture's real power rests with those who control the institutions of culture, this is good for Christians who seek to engage our world.
Nevertheless, Du Mez and The Guardian frame Christ Church's and other evangelicals' use of pop culture as a bad thing. For secularist critics, apparently, it's okay for secularists to use films and books to influence culture. But when conservative Christians attempt the same, the critics raise loud alarms.
Second, notice Du Mez's implication of a nefarious evangelical scheme: "[I]t's always good to follow the money. … There is a lot of money to be made in producing religious-themed products, particularly those aimed at conservative audiences." This sounds ironic, coming from a wildly popular author who has been platformed on many media outlets. Yet no one seriously criticizes Du Mez for making money on her book. However, she and The Guardian assume their readers should be disturbed simply because Wilson's son made money via secular media, then used that income to fund projects for his church and personal religious outreach.
When Christians 'plunder' culture, 'Egyptians' lament their losses
This Guardian series looks like a hatchet job on Doug Wilson, N. D. Wilson, and Christ Church. Of course, Doug Wilson is a controversial figure. Many mainstream evangelicals take exception with his beliefs and approach. However, even if you disagree with Wilson's theology or politics, it's no controversy for people take their hard-earned money and put it back into their religious community. Nor is it shocking news for churches to invest that money into acts of cultural influence.
The Guardian is highlighting Doug Wilson's church by design. They clearly want to scare readers into believing that all Christian churches are militant or "ultra-conservative" like Wilson's church supposedly is.
Such critics also demonize any evangelical cultural engagement. By their beliefs, if Mark Zuckerberg, GLAAD, George Soros, or Planned Parenthood dumps tens of millions of dollars into influencing mainstream culture, we shouldn't be concerned. But when a Christian church seeks "to use television and book publishing to enter US popular culture and promote its interests," we should be appalled.
Such lamentations of the plundered Egyptians aren't unique. The church father Augustine famously suggested that the Jewish exodus from Egypt illustrated more than just a divine prison break. God helped prepare his people to leave enslavement when he told the Israelites to leverage their favor by requesting "silver and gold jewelry, and … clothing" from their Egyptian friends and neighbors.
Augustine said this command is more than a get-rich scheme. To him, "plundering the Egyptians" shows a metaphor for cultural appropriation. Literally.
Augustine suggests the Church in all ages should take good and useful things from pagans and use them for God's purposes. The Christian need not have copyrights to quote from pagan poets, nor patents to use technology for missional ends. Using wealth, cultural commodities, or intellectual properties, the Church should mine the field of culture for their riches, redeeming them for good ends whenever possible.
Indeed, those Egyptians must have felt infuriated to watch their Israelite neighbors tromp off into the wilderness with the family's silverware and sphinx bust. But even worse—they may have realized the Israelites would use these very riches to undermine the pagan gods.
Likewise, the Christian church should continue to "wage war," using "books, cartoons, nature documentaries" or whatever cultural commodities are at our disposal. Drinking the tears of our oppressors is a fitting toast to their plunder.