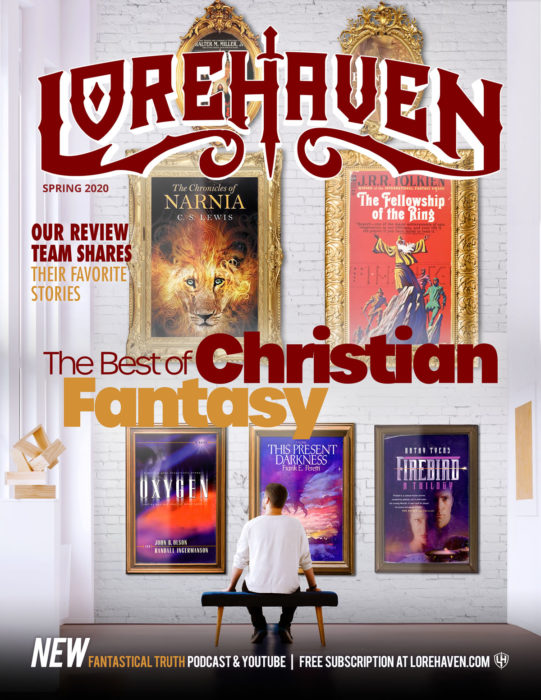 Lorehaven serves Christian fans by exploring fantastical stories for Christ's glory: fantasy, science fiction, and beyond.
(This page will be updated when more Questions become Frequently Asked.)
What's the chief end of Lorehaven?
Lorehaven helps Christian fans explore fantastical stories for Christ's glory: fantasy, science fiction, and beyond. Articles, the library, reviews, podcasts, and the Lorehaven Guild community help fans discern and enjoy the best Christian-made fantastical stories, applying their meanings to the real world Jesus Christ calls us to serve.
Subscribe free to get any updates you choose and to access the Lorehaven Guild.
What do you mean by Christianity and the gospel?
Explore our Sacred Scrolls faith statement. All Lorehaven staff creators and guest writers as well as Quest Guides in the Lorehaven Guild must agree with this faith statement.
(Christian authors whose novels we list or review may affirm comparable orthodox faith statement, though not necessarily our statement.)
The Lorehaven Guild serves a community of fans who gather (via Discord server) to celebrate Christian-made fantastical fiction with delight and discernment. Members of the Guild will explore their favorite creative works in these genres. We will focus on Christian-made stories, yet occasionally include general market books.
Guild members can join monthly Main Quest parties that travel into the fantastical worlds of new books. We will explore these stories' beauty, goodness, and truth (and opposites!), applying their meanings to the real world of our ultimate Author.
Meanwhile, members can also join occasional Side Quest parties that travel into other books, such as older Christian-made stories or general market novels.
Subscribe free to get any updates you choose and to access the Lorehaven Guild.
Who creates content for Lorehaven?
Staff creators at Lorehaven stand on the historic faith of biblical Christianity.
They're biblical local church members and parents. Some of us homeschool our kids. A few of us create our own fantastical stories, professionally or as hobbyists.
Get to know Lorehaven's staff creators.
How does Lorehaven choose books for review?
Lorehaven releases new novel reviews on Fridays.
To be chosen for Lorehaven review, novels must be Christian-made, fantastical in genre, and professionally published (either independent or traditionally). Our volunteer team matches qualifying books to the best reviewer. We also prioritize newer novels, so we will consider release dates, including pre-published titles.
Read more about the Lorehaven Review Team, or request a review yourself.
Can authors send print copies of books?
No. Lorehaven accepts only digital copies of Christian-made fantastical fiction. That way, we can ensure the best reviewer can read the best-matched novel.
The library lists any submitted novel that is Christian-made, fantastical in genre, and professionally published (either independent or traditional).
Learn more about the Lorehaven Library, or add a qualifying novel.
Does Lorehaven offer a print magazine?
When we started Lorehaven in 2018, we offered a quarterly print magazine. Free subscribers could download PDF copies, or purchase print copies from a third-party vendor. We showcased these products at homeschool and writers' conferences.
Then, everything changed when the 2020 pandemic lockdowns attacked.
In 2021, we shifted away from quarterly print issues and moved to a monthly all-digital model. Anyone can still subscribe to updates, yet anyone can read our articles, news, reviews, and other content. We feel this open-access approach is the best way to grow interest in excellent Christian-made fantastical novels.
You can find our twelve magazines (including nine PDF versions) archived here.
Since 2006, the original Speculative Faith portal (separate from Lorehaven but with plenty of crossovers!) has built interest in Christian-made fantasy, often with emphasis on raising awareness among publishers and writers. Volunteers ran this site, especially after a 2010 "reboot." When volunteers are no longer available, the site must cease offering new content, at least for a while.
As of January 2022, Speculative Faith is no longer active, and is effectively closed.
Where can I find a critique group, publisher, or tips on writing?
In the Lorehaven community, we help gather and train fans of the best Christian-made fantastical novels.
Many fans are writers, but not all of them. (Otherwise, how would these stories grow their audience?)
For aspiring writers seeking professional craft help, we recommend existing Christian-led groups, such as Realm Makers.
Can I write articles for Lorehaven?
Lorehaven and its staff creators work to grow and serve the community of Christian fans. Naturally, this will include a lot of aspiring writers!
For now, however, we don't have the resources or time to offer an open articles submissions policy.
A single article requires many hours for ideas, first draft, edits, and image creation.
Guest articles do appear on a limited basis. We usually arrange these with an author we know and/or whose book appears on our Fantastical Truth podcast.
A day may come when we God grants us the resources and time to offer an open submissions policy. But it is not this day.
ntil then, we'd like getting to know you as a fan. Subscribe, listen to the podcast, and join book quests at the Lorehaven Guild!
At this time, Fantastical Truth guest appearances must be invitation-only. Again, this is because of time limits. Cohosts E. Stephen Burnett and Zachary Russell spend many hours each week creating at least fifty Fantastical Truth episodes each year. Once upon a time, they may have feared a potential lack of ideas. What a silly notion. If anything, they constantly labor to balance every episode topic and guest novelist.
Aspiring guests can improve their Fantastical Truth guest chances by:
Publishing a great novel,
Proving their podcast skills,
Showing expertise on a great fan-centered theme at the intersection of biblical truth and fantastic imagination.
Remember also to share qualifying novels to the Lorehaven library and for review consideration.
Will you take a look at my novel manuscript or short story?
No. Many of our staff creators also publish their own novels. But Lorehaven is neither a manuscript review service nor a fiction publisher.
We recommend asking trusted creative friends for their feedback, or joining a writers' group, such as Realm Makers.
For short fiction from Christian authors in fantastical genres, you may also want to check out Havok Publishing.