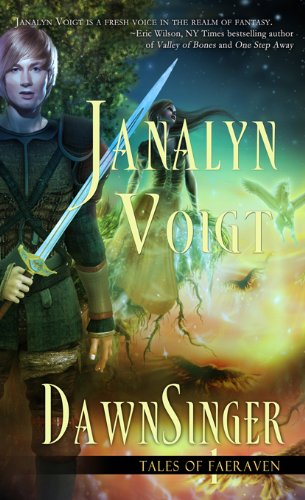 Author:
Ages:
Genres:
BookTags:
Publisher:
Lorehaven may use referral links. As an Amazon Associate, we earn from qualifying purchases.
The High Queen is dying…
At the royal summons, Shae mounts a wingabeast and soars through the air to the high hold of Faeraven, where all is not as it seems. Visions warn her of danger, and a dark soul touches hers in the night. When she encounters an attractive but disturbing musician, her wayward heart awakens.
But then there is Kai, a guardian of Faeraven and of Shae. Secrets bind him to her, and her safety lies at the center of every decision he makes.
On a desperate journey fraught with peril and the unknown, they battle warlike garns, waevens, ferocious raptors, and the wraiths of their own regrets. Yet, they must endure the campaign long enough to release the DawnKing—and the salvation he offers—into a divided land. To prevail, each must learn that sometimes victory comes only through surrender.
Book 1 of the Tales of Faeraven series.
Janalyn Voigt is a fresh voice in the realm of fantasy. Her writing is crisp, her verbs muscular, and it's all wrapped up in a lyrical style. Blending action and romance, DawnSinger is a journey through fear, failure, and faith, and I look forward to its sequel.

Eric Wilson, NY Times bestselling author of Valley of Bones and One Step Away
In DawnSinger, Janalyn Voigt has penned a novel full of surprises. With adventure, mystery, and an unlikely romance, this beautiful, epic fantasy debut will leave you scrambling for the next book in the trilogy.

Jill Williamson, Christy Award-winning author of By Darkness Hid
DawnSinger is a delightful fantasy spun with bardic prose and threaded with danger and intrigue.

Linda Windsor, author of Healer, Thief and Rebel, Brides of Alba Historical Trilogy
Janalyn Voigt builds an exciting world, tranquil on the surface but filled with danger, ancient enemies, and a prophecy yet to be fulfilled. DawnSinger leads you into a land only imagined in dreams. I can't wait to read the second book in the Tales of Faeraven trilogy.

Lisa Grace, best-selling author of the Angel in the Shadows series.