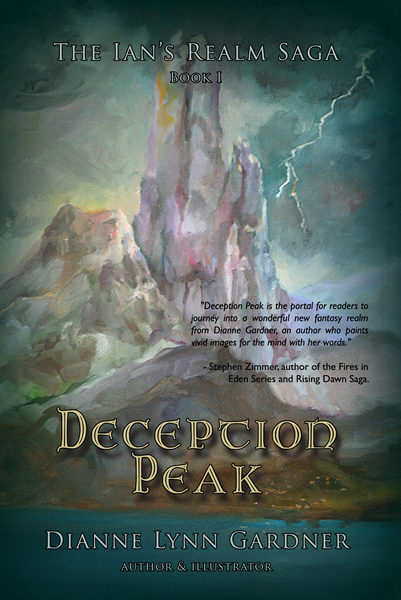 Author:
Ages:
Genres:
BookTags:
Publisher:
Lorehaven may use referral links. As an Amazon Associate, we earn from qualifying purchases.
The first book of a trilogy, Deception Peak is a young adult adventure fantasy about a teenager, Ian Wilson, who follows his father through a portal that magically appears on their computer screen. They travel into a deceptively beautiful Realm, where horses run free, the wind sings prophetic melodies, and their computer avatars come to life.
But when the two are separated, Ian is abducted by a tribe of dragon worshipers and is forced to find his courage. As he struggles for his freedom and embarks on a perilous search to find his father, Ian meets the true peacekeepers of the Realm. It's then that he learns there is a greater purpose for being there.
Book 1 of the Ian's Realm Saga series, fantasy for middle-grade readers and older.
"You won't be able to put this book down as you struggle up Deception Peak along with Ian in the perilous quest to save his father from certain death."

— Peggy King Anderson, author of The Fall of the Red Star and SCBWI-WA Lifetime Achievement Award winner 2011