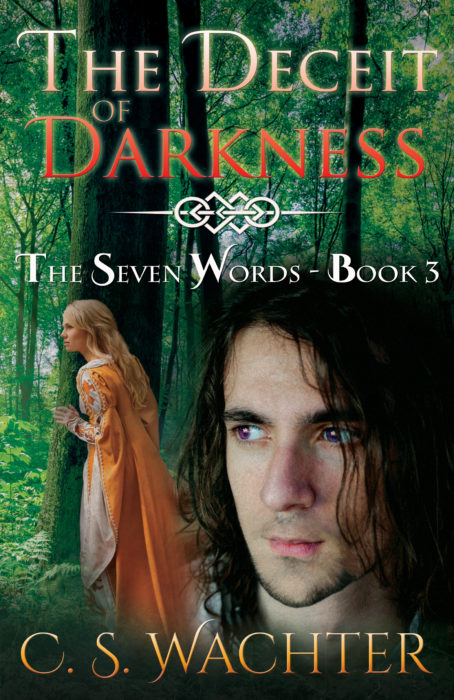 Author:
Ages:
Genres:
BookTags:
Publisher:
Lorehaven may use referral links. As an Amazon Associate, we earn from qualifying purchases.
Sigmund puts a new plan to thwart prophecy into action while Rayne struggles to face the residual darkness coiling within him.
C. S. Wachter · August 2018 · No comments
·
fantasy
for
adults
With a mighty whirlwind and a commanding light, Rayne expels the mercenaries, and brings light to Veres. But will his victory be short-lived? When Rayne and his friends return to Emporium City, they find an old foe waiting.
"Soon, my strong-willed little slave, soon. When you least expect it, I'll be there to claim you once again."
Accused of a crime he didn't commit and hunted by bounty seekers, Rayne struggles against the mounting odds. Helped by his friends, he escapes to Amathea, where Travis joins them and the quest for the scrolls continues.
New foes arise and old ones threaten, as Rayne seeks the next scrolls. But will the deceit of friends bring his journey to an unexpected end?
Book 3 in The Seven Words series.
"The third installment in C. S. Wachter's epic fantasy series crystallizes the series' Christianity."
Lorehaven Review Team
,
It is said that prophecy makes sense only in retrospect. But what if your fate had been foretold, and wasn't looking bright? Would you attempt to escape?
For Rayne Kierkengaard, disowned heir of Ochen's royal line, the question isn't academic. As the One's Light Bringer, charged to reconcile all seven worlds to their Creator, Rayne has had to make peace with a decade's worth of brutal abuse inflicted on him by an evil sorcerer. But as Rayne's successes mount and his circle of supporters expands, his future grows uncertain. His once-loving parents, bewitched by his jealous cousin, put a system-wide bounty on his head. Demons once thought dead go shopping for new skin-suits. And prophecies once relied upon for comfort reveal an ominous edge. Rayne has the strength to live with past pain. But what about his forthcoming fate?
The Deceit of Darkness, the third installment in C. S. Wachter's epic fantasy series, crystallizes the series' Christianity. In this story, the One has a Son who paid sin's deadly wages, yet in a forgotten past when everyone lived together on one world.
The novel begins with a Gideon-esque triumph, gets bogged down in the minutiae of Rayne's life on the lam—during which he bumbles through a divinely orchestrated romance with the plucky Alexianndra—and then picks up speed in its second half before hurling readers over the proverbial cliff. It's tough to imagine anyone finishing this third book without immediately going in search of the fourth.
Ochen continues to be a land of extremes: its light often seems just a little too warm and bright, but then night falls again and leaves the reader longing for even the briefest glimpse of sunshine. Divine interventions feel cheap, but in their absence, fear returns. And isn't that a sign of realism? Christians should know better than anyone that a story's hardships can't be skipped just because the ending is known.
Best for: Older teens and adults.

Discern: Graphic violence, sadistic bullying, drunkenness, references to vampirism.