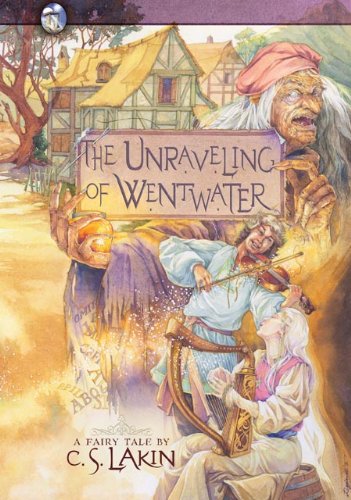 Author:
Ages:
Genres:
BookTags:
Publisher:
Lorehaven may use referral links. As an Amazon Associate, we earn from qualifying purchases.
Secrets and superstitions abound in the kingdom. Be careful with your words, they have consequences!
When the simple, backward village of Wentwater begins disappearing one word at a time, no one can figure out how to stop it. Not the learned men living up in the Heights nor the superstitious leaders of the village. But those who had attended the baby naming ceremony seventeen years earlier remember the words of the marsh witch, and her pronouncement that the babe would one day cause the unraveling of Wentwater. In their fear, the villagers banish the parents and set their cottage on fire, and the babe was thought to have perished in the flames. But . . . did she?
Teralyn lives in the Heights and wants nothing more than to create beautiful music on her lap harp. When she comes down to the village for a festival, she falls in love with a villager named Fromer, much to the fury of Fromer's brother, Justyn. Justyn's jealousy moves him to make a deal with the witch, and when Wentwater vanishes due to a backfiring spell, it leaves Teralyn, the only person left in the kingdom, with a terrible choice. She must leave her life and forget Wentwater, or she can spend seven long years restoring everything back to the way it was, by spinning nettle into thread and stitching the world back . . . one word at a time.
Part of the Gates of Heaven series.