Novelist Shawn Smucker joins us to explore memories and mystic challenges at life's margins.
Fantastical Truth
on Aug 18, 2020
·
No comments
Podcast: Play in new window | Download (Duration: 41:45 — 39.6MB) | Embed
What if eternal life was a curse, and the Tree of Life was reappearing in a place even angels dare not tread? What if you didn't know whether you'd killed your own father? And most recently, what if you escaped from captivity but left your brother behind? Novelist Shawn Smucker explores such mystic challenges at the margins of life, and he's our guest on today's episode.
Exploring memory and magical realism with Shawn Smucker
Two-time Christianity Today Book Award winner Shawn Smucker captivated readers with his genre-bending novels The Day the Angels Fell in 2017 and Light from Distant Stars in 2019. Now, Smucker is back with his newest novel, These Nameless Things, a stunningly distinctive contemporary novel that grapples with the hard question, Is there a limit to the things we'll do to assuage our own guilt and rescue the ones we love?

Once held captive and tortured on a mysterious mountain, Dan was lucky to have made it out alive. But freedom comes at a cost. Left with little memory of the horrific ordeal, Dan remembers one thing—his escape meant having to leave his brother behind.

With each day that passes, Dan waits with other survivors in hope of his brother's escape. But just as long-forgotten memories start rising to the surface, the sudden appearance of a wounded woman throws everything further into question. As Dan struggles to know whom to trust, he is caught once again in a paralyzing moral dilemma—but this time, will he choose to save his own life or his brother's life?

A poignant tale of the bonds of brotherhood, These Nameless Things will have readers frantically flipping pages for answers in this thought-provoking narrative.

Shawn Smucker is the author of The Day the Angels Fell, The Edge of Over There, Light from Distant Stars, as well as the memoir Once We Were Strangers. He lives with his wife and six children in Lancaster, Pennsylvania. You can find him at ShawnSmucker.com.

We ask questions such as:
Shawn, how did you discover biblical truth and fantastic imagination?
Your latest novels skirt the edge of the fantastical. For example, in Light from Distant Stars there's a strong element that I would call magical realism, especially with the Beast and two mysterious children. Yet most of the story enhances Cohen's traumatic and happy memories to a level beyond mere "contemporary" exploration. How would you describe this element?
You said your first novel, The Day the Angels Fell, started with the question, "Could it be possible that death is a gift?" How do themes of life and mortality drive your thematic pursuits?
Which images and ideas drove you to create These Nameless Things?
How does "normal life," and your writing in nonfiction such as memoir, help inspire the themes of your fiction?
What comes next in your stories, both nonfiction and fiction?
How can fans connect with your ongoing work and your podcast?
Explore more in Lorehaven magazine
Shawn said he wants to keep making contemporary stories with fantastical edges.
"As a kid, you wonder if there really are gnomes or fairies, and you think you see them," he said. "I really enjoy reading and writing stories that could be true, even though they're fantastical . . . creating something that happens in this real world, but challenges the boundaries between real and magical or fantastical."

For example, Light from Distant Stars (releasing July 2019) does not start with any fantasy backstory or map of a distant star system. It begins with Cohen Marah, very much a person of our world, staring down at his dying father in a funeral home. Cohen must then reckon with his father's impending death, and his own childhood brokenness when his father was caught cheating with a Sunday school teacher.

Still, the story gets fantastical as Cohen flashes back to a side quest involving two mysterious children, an escaped arsonist, and a shadow-creature called the Beast.

"I got the idea from mythology—Thanatos and Hypnos," Shawn explained. "What I was really exploring with this book was the questions of: How accurately do we really remember things from our childhood? And how do these memories that we think we remember impact our very real lives in the present?
. . . For readers who must continue imagining their way through such trauma, or need to accompany loved ones who do, Light from Distant Stars is a Godsend. In the real world, we need more than platitudes or devotionals to help us heal. Instead, to start imagining our way through any family trauma, in the light of our Father and his truly good gifts, we need more fierce and compassionate stories like this one.
With The Edge of Over There—sequel to The Day the Angels Fell—Shawn Smucker unveils a masterwork of lyrical grandeur. It's a tale of deep mystery and fast friendship, told with the poignancy of half-remembered dreams and the immediacy of pelting rain.
Fantastic fans
About episode 28 (exploring The Chosen) and today's episode, Andrea writes:
I am so glad I listened to this before I watched The Chosen. I think it prepare me well. Also, I'm so excited to hear your talk with Shawn Smucker. Thank you for all your wonderful episodes..
On Twitter,
@TheophanyMedia

asked about ep. 28:
On the must recent episode of the "Fantastical Truth" podcast by @Lorehaven they discussed "Biblical Fiction"—narratives that expand or add to what is shown in Scripture. Do you think Christians are allowed to create / consume this type of art? Why or why not?
To this, 
@richey_paula

 replied:
As long as it's clearly "inspired by" rather than attempting to be a substitute for Scripture, I don't see why not. I think the Word for Word Bible Comic is doing an excellent job of visually expanding upon the Bible, using historical & archaeological resources for accuracy.
And 
@RedHedgeDragon

 replied:
I agree. They key is in the genre label "Fiction." No matter what kind of media you are consuming, as a Christian you should always be taking in a steady diet of Bible. God appears as a character in all kinds of fiction, but only the Bible is true.
Evurandi B. left a comment on our YouTube channel about episode 26 (about top Narnia myths):
Can I like this more than once? (Like, a hundred times?) I'm SO tired of people acting like Lewis was this horrible, sexist person because of what happened with Susan. If I could get everyone who believes she was "denied salvation" for growing up or liking sex to listen to this I would. You explain Lewis' real meaning so well!
Next on Fantastical Truth
How does one novelist go from "Babylon Bee"-ing a political satire writer to creating his own fantastical worlds with a comedic edge? We've invited Frank Fleming onto the podcast to share how such often-misunderstood genres can uniquely glorify God and reflect our crazy realities.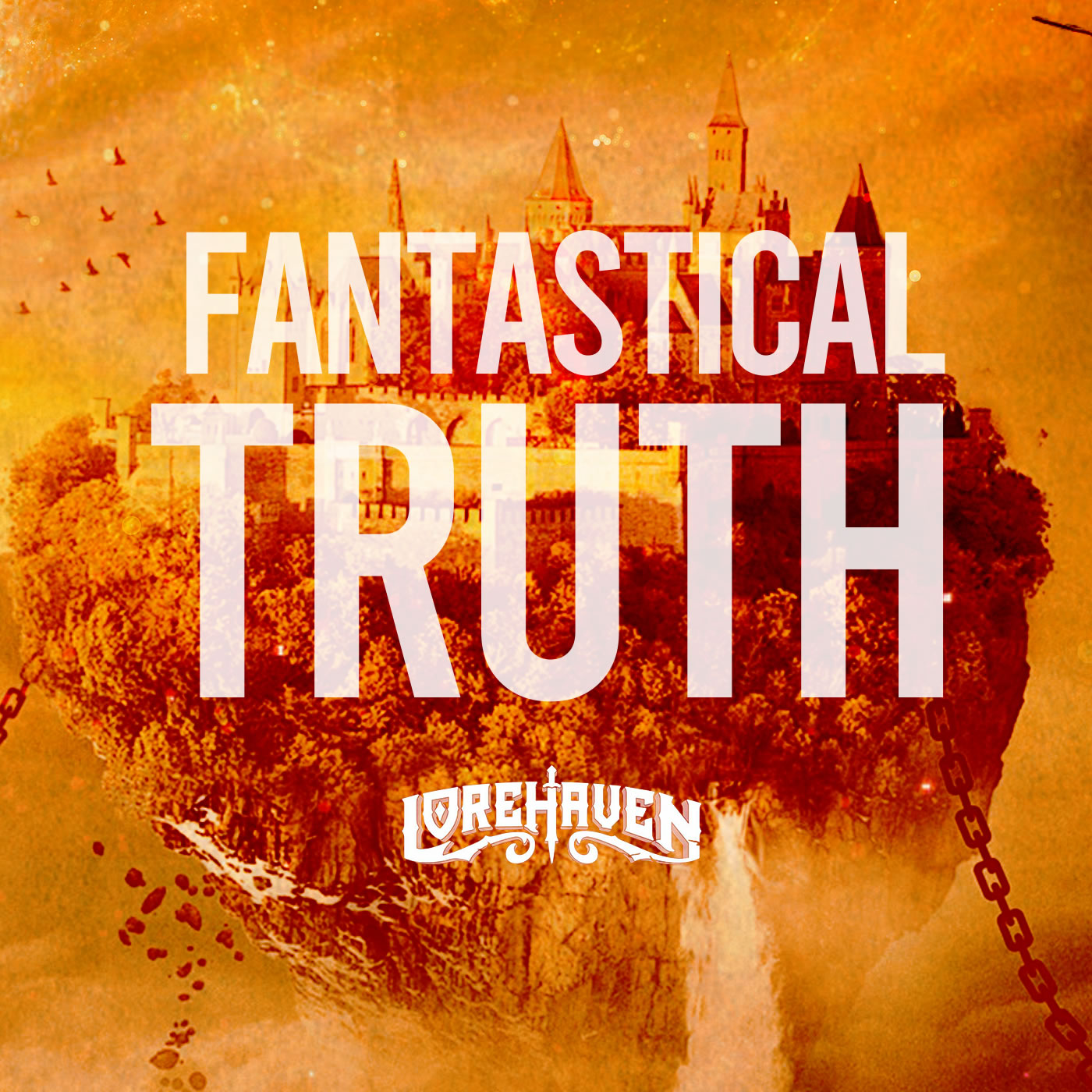 Fantastical Truth
Lorehaven
Explore the best Christian-made fantasy, sci-fi, and beyond, and apply these stories' meanings in the real world Jesus calls us to serve.
Share your thoughts with Fantastical Truth!