Lani Forbes's novel dares us to sympathize with complex people who practice paganism and even human sacrifice.
Josiah DeGraaf on Mar 3, 2022
7 comments
Some critics too easily claim that Christian-made stories often portray characters with non-Christian beliefs in cartoonish ways. You might already know the stereotypes: the villainous atheist, the angry Muslim, or the scheming liberal.
These figures may appear in evangelical movies. Contrary to some critics' charges, such characters aren't terribly widespread in Christian-made novels. But even when these novels don't turn non-Christian characters into cartoons, the novels don't always present compelling arguments for the non-Christian's position.
Lani Forbes's Mesoamerican-inspired fantasy The Seventh Sun is one book that does present non-Christian characters who are complex and sympathetic—and even dares to portray people who defend human sacrifice, of all things.
As I've reflected on Forbes's fantasy world after her tragic passing in February 2022, I keep returning to this strength of The Seventh Sun: Forbes portrayed non-Christian characters in relatable ways. She reminded us of important truths we as Christians need, especially when pundits insist we view our opponents as malicious enemies.
The Seventh Sun dares us to honor human-sacrificing heathens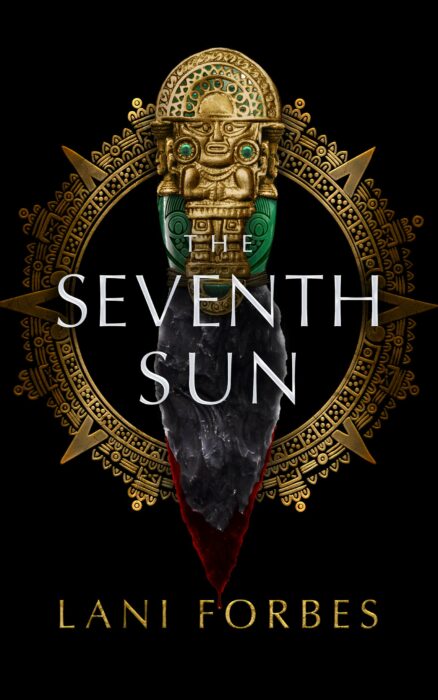 To summarize the book (without spoilers!), The Seventh Sun focuses on seven princesses seeking to win the heart of a newly crowned prince. The six princesses not chosen will be sacrificed to appease the gods. (Read Lorehaven's review.)
One princess, Mayana, has always doubted the sacrificial system and wants to see this end. But her new best friend Yemania, one of the rival princesses, surprisingly supports the sacrificial system, despite her odds of being sacrificed herself. During one pivotal conversation, Yemania defers to the gods: "The gods sacrificed themselves to save us. We owe them blood. … Do you think you know better than the codex? The holy texts given to us by the gods thousands of years ago?"
When Yemania is challenged about how she could uphold such a tradition, even when it demands her death, Yemania further stands her ground: "You think it requires bravery to question the rituals, but it takes me just as much to obey them when everything inside you doesn't want to."
That's a surprising amount of moral resolve for upholding this custom.
Despite Mayana's repeated attempts to persuade her otherwise, Yemania stands her ground throughout the story. She even responds angrily when Mayana tries to spare her life: "I don't want the prince to think that I am not willing to do my duty."
Readers may find it hard not to like Yemania, given her caring heart and her befriending of Mayana when other princesses view her as only a rival. And despite the awful system Yemania upholds, you might also understand her perspective, given her cultural beliefs. As The Seventh Sun ends, the story leaves Yemania unpersuaded by Mayana. In Yemania's resolve, she becomes a fascinating case study into the value of portraying non-Christian characters sympathetically.
Relatable non-Christian characters help us respond to real people
Christian readers may view relatable non-Christian characters with suspicion. After all, if authors make certain characters too relatable, couldn't readers feel their minds changed by the characters? This result seems unlikely, but such critics make a valid point: fictional antagonists can persuade some readers. Reading such books does bring real risk. But we also face this risk by simply engaging real life. If fictional characters' beliefs can change a reader's minds, that reader probably wouldn't fare much better against a real person with similar beliefs.
But in the right author's hands, stories with relatable non-Christian characters can actually provide us safer places for training to respond to such beliefs. Without the pressure of immediate response in real-world conversations, we can often develop better answers for our Christian beliefs.
As my old high school literature teacher said, we best learn how to respond to unbiblical beliefs not by sparring with "straw man" variants, but by learning how to rebut these beliefs' "steel man" version.
Forbes has an easier task. The Seventh Sun probably won't tempt modern readers to support human sacrifices. But the principle applies to all books—whether they deal with unfamiliar moral challenges or challenges that we do face.
We need books with relatable non-Christian characters because these figures can best prepare us to respond to real-world people.
Relatable non-Christian characters help us see their humanity
In our increasingly polarized world, we can too easily make uncharitable assumptions about our opponents. Evangelical movies (yes, such as the infamous God's Not Dead) don't help by portraying Christians' enemies as cartoonish jerks.
Stories like The Seventh Sun portray such people more sympathetically, reminding us that people are neither simple collections of beliefs and arguments, nor the Devil incarnate. Behind all these is a very real human being bearing God's image. When we see this truth, we follow Christ's call for us to imitate him by loving our enemies, so we can engage with them with compassion and love—while still standing up for what's true, noble, and good.
We can trust God with our hard questions
A few months before The Seventh Sun author Lani Forbes passed away, I shared a conversation with Lani about her portrayal of non-Christian characters. She said something that deeply resonated with me: "I'm never afraid to dive into things to find the answers because I always find the truth. I'm a firm believer to not shy away from the hard questions. Because God will meet you there when you do so."
Relatable non-Christian characters give us the chance to wrestle through hard questions. As I ponder Lani's life and work, this truth stands out to me: her trust in God to ask him hard questions, knowing he would always give her the answers.
Want to explore The Seventh Sun? Join our March 2022 Book Quest exclusively in the Lorehaven Guild. Learn more about the quest and how to join the Guild on Discord.