Starting in March, heroes of the Lorehaven Guild will explore the fantastic jungles and underworlds of Lani Forbes' lushly mythological The Seventh Sun.
Hark, heroes of the Lorehaven Guild! Our third monthly Book Quest begins Tuesday, March 1.
This time we crash into the fantastic jungles and underworlds of Lani Forbes's lushly mythological The Seventh Sun. That's book 1 of the Mesoamerican-inspired YA fantasy series, which continues with book 2, The Jade Bones, and book 3, The Obsidian Butterfly.
Introducing author Lani Forbes (1987–2022)
Lani Forbes was the award-winning YA author who wrote The Age of the Seventh Sun series. As the daughter of a librarian and an ex-drug smuggling surfer (which explains her passionate love of the ocean and books), Lani was a one-time teacher turned MFT student. Her passion was showing readers the transformative and encouraging power of story on the human experience. She helped others process anxiety, depression, and complex PTSD, both in her stories and in real life. A California native whose parents live in Mexico, Lani resided in the Pacific Northwest with her husband and three young children. She was a proud nerd, stage IV cancer warrior, and member of Romance Writers of America and the Society for Children's Book Writers and Illustrators.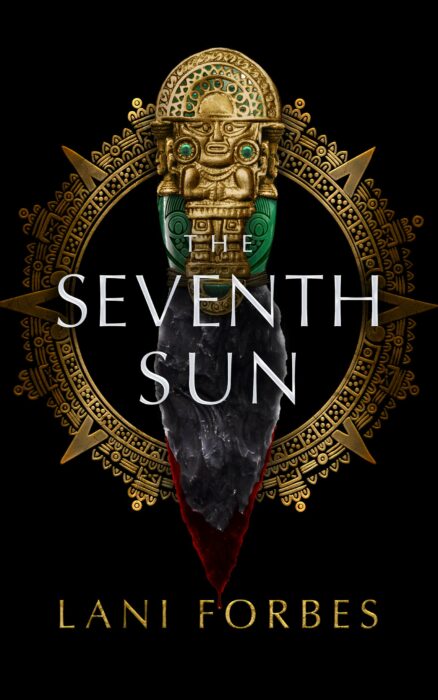 It is a truth universally acknowledged, that a single Aztec-like ruler in possession of sun-control powers, must be in want of choosing a wife and human-sacrificing all the other princesses to the gods. So starts the Mesoamerican-inspired world of Lani Forbes's breakout debut The Seventh Sun. As new Chicome king, Prince Ahkin pledges to uphold his people's pagan rituals, but fears the sun is literally going down on his watch. He's soon besotted by water-wielding princess Mayana. She struggles to reconcile the beauty of her culture with her revulsion to human sacrifices. Law and grace collide like elemental powers in this rich tale, whose author keeps taut yet luxuriant focus on mythology and setting. Final surprises come fast yet bring enough closure to coronate the Age of the Seventh Sun trilogy.

Best for: Older teen readers, fans of fantasy romance meeting grim realities.

Discern: Heroes assume gods and goddesses truly exist and intervene in people's lives; self-cutting releases natural-borne magical abilities by people's blood; brutal sacrifices are described at a distance, involving animals and even human beings; frequent sensuality, including deep kissing and bare body descriptions, but lust and premarital sexual activity are discouraged.
Book Quest guidance
Quest title: Lani Forbes's The Seventh Sun

Skill level: We recommend this quest for readers age 16 and older
Genre: Fantasy
Quest Guide: E. Stephen Burnett
Quest destinations
March 1–5: chapters 1–10
March 6–12: chapters 11–20
March 13–19: chapters 21–30
March 20–26: chapters 40–50
March 28–31: chapters 51–52 and finale
About the Lorehaven Guild
The Lorehaven Guild serves a community of heroes who gather to celebrate Christian-made fantastical fiction with delight and discernment. These stories include (but are not limited to) fantasy, science fiction, and beyond.
Heroes of the Guild will explore their favorite creative works in these genres. We will focus on Christian-made stories, yet occasionally include general market books.
Guild heroes can join monthly Main Quest parties that travel into the fantastical worlds of new books. We will explore these stories' beauty, goodness, and truth (and opposites!), applying their meanings to the real world of our ultimate Author.
Heroes can also join occasional Side Quest parties that travel into other books, such as older Christian-made stories or general market novels.
How to join the Lorehaven Guild
Subscribe free to Lorehaven! We'll send you the exclusive invitation link.
Then, use the Discord app or your browser to enter the Lorehaven Guild. Once inside the Guild, you can browse the Lorehaven Sacred Scrolls faith statement (this one only applies to Lorehaven staff creators). Then you'll sign off on the Code of Honor (this one applies to all Guild members).
Once you finish, enter the Great Hall and pass into the Guild itself.