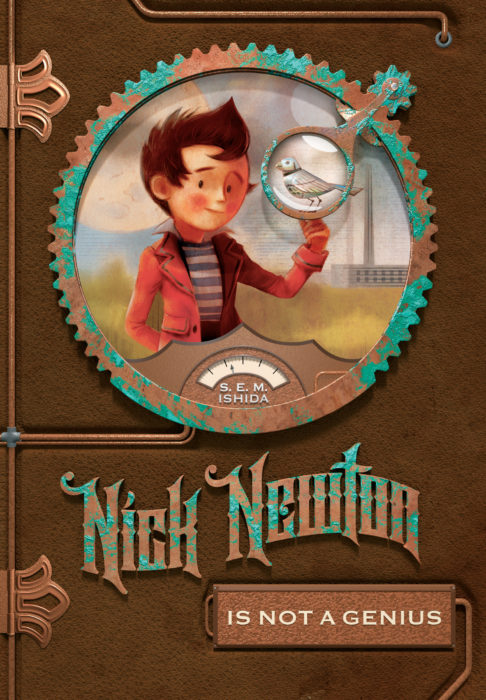 Author:
Ages:
Genres:
BookTags:
Publisher:
Lorehaven may use referral links. As an Amazon Associate, we earn from qualifying purchases.
Nick Newton is an ordinary boy from a family of extraordinary geniuses, but that doesn't stop him from making his own discoveries—whether they be unusual inventions or unexpected friendships.
S. E. M. Ishida · October 2016 · No comments
·
science fiction
for
middle grade
When you live with a family of geniuses, a normal day involves ancient robots, flying baby carriages, and mysterious millionaires. All before lunchtime.
Meet Nick Newton, a merely average boy from the country of Thauma. Nick's not brilliant like his mom and dad or a child prodigy like his sister, but he won't let that stop him from uncovering the mysteries of a clockwork factory or revealing a war hero's greatest secret. With help from two new friends and his butler named Jude, Nick embarks on an adventure that will change his life forever.
Book 1 of the Nick Newton series.
Children and grown-ups alike will be charmed by this gentle, creative tale.
Lorehaven Review Team
, summer 2018
Nick Newton is not a genius. That isn't shameful; you might even call it normal—unless you lived in Nick's house. There, the dazzling brilliance of his mother, father, and older sister shine a painful glare on the fact that poor Nick is not a genius. But he's curious and persistent, and by those virtues he will discover what secrets from the war are hidden in his home. With Nick Newton Is Not a Genius, S. E. M. Ishida creates a sci-fi tale for young readers. Her story plays out in Thauma, a country of advanced robotics and whimsically named educational establishments. It is peopled with colorful characters, sometimes wrong but always memorable. The plot is simple and the book is never in a rush, but children and grown-ups alike will be charmed by this gentle, creative tale.
Best for: Children, fans of science fiction.

Discern: Characters discuss rumors that a man murdered his parents.