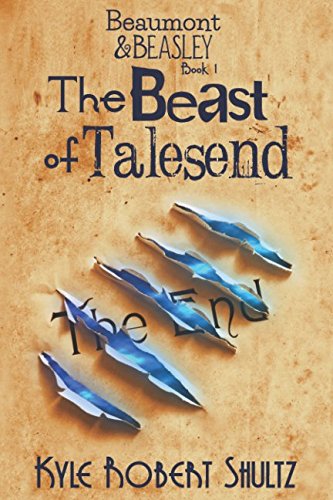 Author:
Ages:
Genres:
BookTags:
Publisher:
Lorehaven may use referral links. As an Amazon Associate, we earn from qualifying purchases.
He didn't believe in magic or monsters—until magic turned him into a monster.
Private eye Nick Beasley lives in a world where fairy tales ended a long time ago – where zeppelins now soar the skies instead of dragons, and where the first automobiles have taken the place of flying carpets. He's made a name for himself across the Afterlands by debunking fake magicians and exposing fraudulent monsters. This is the modern age, after all. Magic and monsters are long gone.
At least, that's what Nick believes. Until he gets magically transformed into a monster, that is.
The only person who may be able to help Nick is Lady Cordelia Beaumont, one of the last enchantresses in the Afterlands. But in order for her to cure him, they'll have to retrieve a powerful artifact from a ruthless crime lord – who is also Cordelia's father.
The fate of the Afterlands lies in the hands of a runaway enchantress and a monstrous ex-detective. What could possibly go wrong?
Book 1 of the Beaumont and Beasley series.
Lorehaven may use referral links. As an Amazon Associate, we earn from qualifying purchases.
In The Beast of Talesend, modern and magical collide in a fashion reminiscent of the Harry Potter universe. Kyle Robert Shultz creates an enchanting story world grounded in familiarity yet saturated with fairy-tale qualities. Add a distinctly British ambience and this story is primed to delight. Private detective Nick Beasley, expert in debunking magic, believes the magnifying glass of reason and logic reveals magic as a hoax. Then he becomes tangled in a case that opens his eyes to a world of new—and frightening—depth. His brother Crispin, Lord Whitlock, and "Lady Beaumont" round out a main cast that is quirky, highly individual, and engaging. Snappy dialogue, burgeoning mysteries, and riveting action keep a relentless pace all the way through the breathtaking conclusion. However, plenty of room remains for brotherly banter, dry wit, and a fascinating magic system.
Best for: Teens and adults who enjoy a clever, real-world fairy tale packed with action and humor and built around memorable characters.

Discern: Some violence, creepy creatures, and one semi-profanity.