Lorehaven Magazine reviews Christian-made, fantastical, published novels.
Lorehaven Review Team
|
No comments
Alison Henry and the Creatures of Torone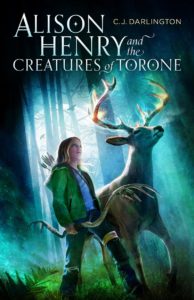 Once the people and animals of Torone could speak to each other. Then the people forgot. But after the invasion of monstrous kozas, no one can stand alone. The gap will be bridged by young Alison Henry, plucked out of our world. C. J. Darlington, in Alison Henry and the Creatures of Torone, spins this tale of usurpers, chosen ones, and talking animals. The tropes are familiar but satisfying, and female heroes lend a modern flair. References to the Bible root the story in a Christian cosmos—religion in Torone is vague but wears the Christian trappings of chapels and christenings. The style of the book is unadorned and, at times, too obvious even for its twelve-year-old heroine. Despite its simplicity, Alison Henry is good comfort food for people who dream of other realms.
Best for: Middle-grade and young YA readers, especially those who love animals.

Discern: Mild name-calling and non-graphic violence.
Breakwater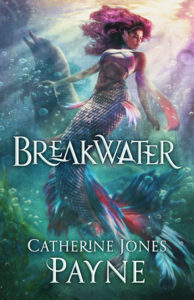 In Breakwater, Catherine Jones Payne tells a watery tale of merfolk, naiads, and intrigue in the ocean city of Thessalonike. Jade, a young aristocrat, catches her fiancé in the murder of a lowly refugee girl. Her decision to expose him unleashes pent-up rivalries between the rulers and subjects of Thessalonike. But despite allusions to mythology and classical Greece, Breakwater is never epic. Jade, a teenage mermaid who variously giggles and sobs, anchors this tale to contemporary ambiance. Undercurrents of racial conflict, immigration, and political instability strike a counterpoint but don't displace the dominant tone. A clear sense of morality, unsupported by religion, suffuses the story. Readers looking for a quick, pleasant read rather than alien worlds will find that this book swims well.
Best for: Younger teens and those who enjoy contemporary fiction and sweet romance as well as fantasy.

Discern: Non-graphic violence, one questionable word, and repeated defiance of parental authority in serious matters.
Dongeng
Fairy-tale creatures are dying as people forget their stories. Someone must write the stories to keep their worlds from crumbling. The fairy-tale creatures choose Sara—against her will—drawing her into a world of magic, where monsters are real and boundaries are broken. Sara wants to help, but doesn't know how. She doesn't know the stories, and the creatures she meets are terrifyingly different from the folklore. The more she writes, the worse things get. But all is not as it seems, and some creatures want to tell stories of their own. Sara must decide who to trust as she learns to breathe life back into the fairy-tale worlds. Author Anna Tan creates a beautiful multicultural world for Dongeng, weaving in characters from traditions both familiar and foreign. Danger and hope, fear and joy all come to life in this thoroughly fun adventure.
Best for: Young adults who enjoy fairy tales from multiple canons and cultures.

Discern: Some references to dark themes, some references to non-Biblical gods.
Earthcore Book 1: RotoVegas
In the fine tradition of young adult adventure fare from the '80s and '90s—where locales are exotic, transportation incidental, friendships instantaneous, and parents largely out of the picture—Grace Bridges's RotoVegas follows seventeen-year-old Anira on a family-vacation-turned-paranormal-struggle in the New Zealand tourist town of Rotorua, famed for its geothermal vibrancy. When the hot spring behind Anira's hotel imbues her with heightened awareness, she begins to discover others who've been similarly gifted. Only by joining forces can they prevent a malicious plot to transform the quaint village into an international gambling mecca. Appropriately enough for a story sunk deep in Maori animism, the sense of place is lovingly grounded, and the style flows like water. Engaging characters coax us through cheesiness to a clever climax.
Best for: Young adults seeking a character-driven romp through a unique urban fantasy setting.

Discern: Intermittent mild language, brief violence, unreconstructed animistic spirituality, and the unfortunate implications of the fact that the mothers in the cast all seem to be single.
Flood
Flood comes at you like a storm. There's a simplicity to its tumult, a feral edge to its beauty. Nor does it break when you expect. In this telling of Brennan McPherson, the saga of Noah opens not with the voice of God, but with the torches of the God-King, demonic ruler of an antediluvian Earth. His plot to thwart the Almighty depends upon a pitiless harrowing of the family chosen to redeem mankind. The struggle is generational and the stakes apocalyptic, but the battleground is in the heart, the objective in the mind. Can even a righteous man withstand the onslaught of such provocation? This second installment in the Fall of Man series is a tour de force of character drama. Strong personalities, vivid descriptions, and lifelike dialogue steady the reader amidst ravaging action and deceptively placid interludes.
Best for: Adults eager to examine those old bloodstains behind the flannelgraph.

Discern: Strong violence, sexual references, non-graphic nudity, brief language, realistic depictions of intense grief and rage.
For Steam and Country
Jon Del Arroz's For Steam and Country constructs a world of escapades, mystery, and heroism. When spunky Zaira von Monocle is whisked from her plain farm life, she becomes a vital cog in the turning gear system of war. A simple but diverse cast of characters help Zaira pilot the plot which, like Rislandia's prize airship plying the sky, takes time to get off the ground. But once lifted, this story soars into new, fascinating territory—complete with its share of mishaps. In places the story's quality is bumpier than a horseless carriage, but glimpses of a wider world and history, unexpected twists, and some good old-fashioned derring-do make up for the lack of polish. And the strong ending tantalizes readers with sequel potential.
Best for: Newer fans of steampunk who enjoy a romping adventure without an overload of intricate worldbuilding details or complex themes.

Discern: Moderate violence, a few light vulgarities, partial nudity, and some romantic content.
Frayed
With Frayed, Kerry Nietz returns triumphantly to the cyberpunk dystopia of The DarkTrench Saga, paralleling one of his prior tales a la Ender's Shadow. The setting: a far-future caliphate of ubiquitous automation serviced by human robots whose electroshock brain-implants render them eunuchs with seats saved in paradise. The narrative remains accessible to newcomers while rerouting the circuitry of A Star Curiously Singing to highlight former bit players. Our hero is ThreadBare, a dissatisfied debugger living vicariously through others' memories, unaware his station in life will soon be upended. But when misfortune deposits him in high places, he faces crises of conscience that compromise his faith and threaten to crash his whole world. Nietz's barebones style is punchy yet subtle, laced with lived-in jargon. This slow-burning psychological drama holds rich rewards for those who unravel its thematic threads.
Best for: Teens and adults seeking intelligent social sci-fi that doesn't feel compelled to set off an explosion every five minutes.

Discern: Some polygamous innuendo, pervasive in-world spiritual bleakness.
Orphan's Song
Orphan's Song begins with a familiar tune: an encroaching dark lord, an old peddler with a mysterious past, a ragtag band of urchin-rebels, and a Cinderella figure imbued with a power she doesn't comprehend. But Gillian Bronte Adams's arrangement rings with sincerity, drawing us into a classic medieval fantasy setting populated with archetypes that somehow feel fresh and vigorous. Birdie, the titular orphan who alone can hear and channel the deistic soundtrack of the universe, is beset by doubts (but not by irritating angst). Her friends and allies likewise inhabit the third dimension. Relentless foes keep our heroes on their toes. Sudden violence and forceful diction drive the action forward, relieved by descriptive flourishes that accent secondary-world beauty for its own sake.
Best for: Young adults seeking the trailhead of a well-styled fantasy series that doesn't ask much of them.

Discern: Low scruples, moderate bloodshed, and high dudgeon.
Saint Death
What do you get when you cross a quasi-Catholic folk cult, an interdimensional conspiracy, and a hard-boiled reporter/Earth Guardian? Why, Mike Duran's Saint Death, of course. This second installment in the Reagan Moon series conjures a menagerie of the grotesque and macabre. When an anonymous tip leads Moon to a shrine used for human sacrifice, he learns demonic forces are threatening Los Angeles. But this time our loner hero must team with a band of fellow oddballs to stand a chance of averting catastrophe. But can he can hold readers' attention through swarms of internal monologues and plagues of overwrought prose? That will depend on readers' affection for the noir genre. Those who don't mind passively perplexed protagonists will find plenty of Peretti parallels in this noncommittally theistic paranormal thriller.
Best for: Adults interested in a gritty angels-and-demons yarn with astronomical stakes.

Discern: Creepy violence, mild-to-moderate language, and low-to-midlevel supernatural beings without much reference to supreme rulers of their good or evil hierarchies.
The Beast of Talesend
In The Beast of Talesend, modern and magical collide in a fashion reminiscent of the Harry Potter universe. Kyle Robert Shultz creates an enchanting story world grounded in familiarity yet saturated with fairy-tale qualities. Add a distinctly British ambience and this story is primed to delight. Private detective Nick Beasley, expert in debunking magic, believes the magnifying glass of reason and logic reveals magic as a hoax. Then he becomes tangled in a case that opens his eyes to a world of new—and frightening—depth. His brother Crispin, Lord Whitlock, and "Lady Beaumont" round out a main cast that is quirky, highly individual, and engaging. Snappy dialogue, burgeoning mysteries, and riveting action keep a relentless pace all the way through the breathtaking conclusion. However, plenty of room remains for brotherly banter, dry wit, and a fascinating magic system.
Best for: Teens and adults who enjoy a clever, real-world fairy tale packed with action and humor and built around memorable characters.

Discern: Some violence, creepy creatures, and one semi-profanity.
The Songweaver's Vow
The Songweaver's Vow knits together a world where gods and goddesses come to life in all their glory—and all their humanity. Euthalia, a human, is sacrificed to become the wife of a god and is carried to Asgard by her new husband, a god she is not allowed to see. Jealousies kindle, passions ignite, and feuds erupt in this tale where good intentions have unintended consequences, lies are currency, and true love may not be enough to conquer all. Laura VanArendonk Baugh masterfully draws on legends and myths both familiar and obscure to create a world that is all too similar to our own, with characters who display humanity's best and worst traits in a way that embraces honesty, forthrightness, and love.
Best for: Young adults who appreciate subtlety and shades of gray and situations that don't always have a "right" answer.

Discern: Open sex discussion, implied sex in the context of marriage, violence and gore.
Walking on the Sea of Clouds
It's the near future. Megacorporations have set foot beyond our planet—mining asteroids, colonizing the moon, riding herd on the bottom line. Earth's gravity well imposes brutal strictures on anyone seeking escape velocity, but it's worse for contenders who lack unlimited funding. And for two colonist couples chasing a dream, the thrill of barren lunar beauty may prove insufficient to patch their marital stress fractures. In Walking on the Sea of Clouds, Gray Rinehart draws upon his own extensive professional experience to depict a world of claustrophobic vistas and high-tech deprivation, where even the tiniest details in relational and logistical dynamics may determine the difference between failure and success, life and death. This novel's style is literary, its pacing episodic, its science hard as a vacuum. Despite a meandering plot, tolerances are tight for marriage on the moon.
Best for: Adults seeking a slice-of-life missive from the pioneers of the 2030s.

Discern: Infrequent moderate language, occasional sexual innuendo, brief-yet-vivid descriptions of gore, and only briefly referenced Christianity.