Christians may have a different take on fans who must grieve corrupted stories and learn to love again.
Fantastical Truth
on Jul 29, 2022
·
No comments
Podcast: Play in new window | Download (Duration: 1:20:16 — 74.8MB) | Embed
Last week Zack and Stephen left town and headed opposite ways. Meanwhile, fans are separating from franchises once thought too big to fail. Star Wars, DC, Marvel, Amazon's try at Lord of the Rings, Doctor Who—they're all coming in for much criticism. Some call this "toxic fandom." Others say this is fans keeping creators accountable for bad art or canon violations. As biblical Christians, how do we respond to these controversies with discernment?
articles • news • library • reviews • podcast • gifts • guild
Episode sponsors
Concession stand
As before, this is a Stephen solo show, while Zack and Stephen are both traveling.
As usual, if we touch on politics, we try to make this means to greater ends.
That includes some accusations of stories that have supposedly gone "woke."
Nope, we certainly don't deny that secular agendas infest some stories.
That includes what Stephen calls Sexualityism, culture's fastest-growing religion.
We do see, however, such battles as sadly necessary, not ultimate purposes.
Fandom is about love for stories, and for that reason, this text may apply:
Love is patient and kind; love does not envy or boast; it is not arrogant or rude. It does not insist on its own way; it is not irritable or resentful; it does not rejoice at wrongdoing, but rejoices with the truth. Love bears all things, believes all things, hopes all things, endures all things. (1 Corinthians 13:4–7)
Chapter 1: What's happening to our favorite fantasy franchises?
The MCU is experimenting with multiverse, bad gods, flippancy, diversity.
Doctor Who tried a female doctor and backstory, and now they're kinda stuck.
Star Wars? Well, fans are constantly fighting about that. (See Stephen's article.)
Amazon's The Rings of Power TV show is so far marketing its modern virtues.
DC is all over the place, and until they get a new studio head, they're floundering.
Star Trek is dividing fans, with the possible exception of Strange New Worlds.
Chapter 2: How have fans responded to canon and character shifts?
So far we've seen two extreme sides of fan responses to all of these changes.
Positive: Fans accept the changes, defend them, and find any precedent.
These seem to be some new fans, often prone to going along with trends.
Others are old fans who try to keep an open mind even about big changes.
For example, Star Trek has always leaned liberal humanist, and DC is diverse.
Of course, the problem here is that fans may "support" non-excellent stories.
Reference this July's Josiah DeGraaf article about Christians doing the same!
Negative: Fans bemoan the changes, hate-watch, and/or monetize criticisms.
Stephen almost joins this camp. He no longer has Netflix, Disney+, Amazon.
Yet some fans go further. They obey the Emperor and "embrace your anger."
On social media and YouTube, creators go full-time criticizing some shows.
Stephen finds some of these videos guilty pleasures, and some are very informed.
Yet like any critical-review formats, these carry many risks. More on this later.
To reiterate, producers/creators often do make changes based on agendas.
Usually these are not so much based on overt politics, but Sexualityism.
This leads to a third fan response, which we address in our final chapter.
Chapter 3: How should Christian fans react to franchise changes?
Mixed: Fans really try to accept the changes, but often regret that they can't.
This is Stephen's position, or rather the position he wants to have.
That's not just because it's a "middle way" (these are not always right).
After all, it's just wrong, and often slander, to dismiss all criticism as "toxic."
"I understand what you're saying, but when it comes to fans, it is a fan's right to have whatever opinion they want to have. And people are going to be upset, especially when you're talking about books or games, because you're never going to be the exact person who they had in their head, or who they played on The Witcher 3, for example. I don't necessarily consider that toxic, I just consider that passionate. And it's something which I have obviously had to come to terms with over the years."
There has been lots of, let's call it speculation for now, about my private life and professional partnerships. Now, while I do appreciate the passion and support by those very people who are "speculating", It has come to such a point that I needed to say something, which in itself, is a bad thing. We are living in an age of social enlightenment. More and more, people are realising that their views may have been blinkered and that they need to expand them to encompass others. So, to you out there who are expressing your disdain and showing your displeasure through a surprising variety of ways, it's time to stop. I know it can be fun to speculate, to gossip, and to dive into our own personal echo chambers on the internet, but your "passion" is misplaced, and it causes harm to the people I care about most.
Can we not apply the famous love passage of 1 Corinthians 13 to fandom?
In 1 Corinthians 13:4–7, the apostle Paul focuses on God's view of love.
Of course, corrupt humans in a corrupt world will often corrupt stories.
Yet it's likely best to grieve corrupted stories, not "rejoice at wrongdoing."
And that means we may need to risk loving again, even if we're disappointed.
That means we need to beware "fake news" about a supposed corrupt story.
C. S. Lewis in Mere Christianity warned of opposite dangers in a real war.
Suppose one reads a story of filthy atrocities in the paper. Then suppose that something turns up suggesting that the story might not be quite true, or not quite so bad as it was made out. Is one's first feeling, 'Thank God, even they aren't quite so bad as that,' or is it a feeling of disappointment, and even a determination to cling to the first story for the sheer pleasure of thinking your enemies are as bad as possible? If it is the second then it is, I am afraid, the first step in a process which, if followed to the end, will make us into devils. You see, one is beginning to wish that black was a little blacker. If we give that wish its head, later on we shall wish to see grey as black, and then to see white itself as black. Finally we shall insist on seeing everything—God and our friends and ourselves included—as bad, and not be able to stop doing it: we shall be fixed for ever in a universe of pure hatred.
As C. S. Lewis once explained, it's a kind of gluttony that doesn't look like gluttony. Speaking through his satirical demon Screwtape, Lewis called this a "gluttony of delicacy." Just switch out a few words—I'll show them in boldface—and Lewis's wisdom applies:
Again, borrowing from Lewis:
He is a positive terror to storytellers and other fans. He is always turning from what has been offered him to say with a demure little sigh and a smile, "Oh please, please . . . all I want is a story that makes me happy, completely original but not too subversive, and the teeniest weeniest bit of nostalgia."

You see? Because what he wants is more creative and less popular-level than what has been set before him, he never recognises as gluttony his determination to get what he wants, however troublesome it may be to others.

At the very moment of indulging his appetite he believes that he is practising temperance. . . .

The anti-fan is in what may be called the "All-I-want" state of mind.

All he wants is a movie properly made, or a TV show properly adapted, or a novel properly written. But he never finds any creative or any friend who can do these simple things "properly"—because his "properly" conceals an insatiable demand for the exact, and almost impossible, palatal pleasures which he imagines he remembers from the past; a past described by him as "the days when you could get really great movies" but known to us as the days when his senses were more easily pleased and he had pleasures of other kinds which made him less dependent on those of the popular culture.
So what does this look like for the discerning Christian fan?
You might need to cancel some stuff if it's simply not good or wasting time.
For Stephen, he simply wasn't challenged or entertained enough by Disney+.
He also feels burdened by conscience about supporting "not so secret" agendas.
The same is true of Amazon, which also has some worker/anti-local issues.
But he wants to keep engaging Disney far (even Marvel) and will order Amazon.
For DC and Doctor Who, he wants to be optimistic. #RestoreTheSnyderverse!
He'll even "believe all things," at least ten percent, about The Rings of Power.
(Otherwise, he "shall wish to see grey as black," and that's indeed devilish.)
Yes, we risk disappointment, just as we will showing good faith about people.
But what's the alternative? Being rude? Un-Christlike? People matter more.
Having good-faith response to stories, and only later grief, helps us practice.
A recent case: new Star Trek is meh, but Strange New Worlds may be great.
And if other stories show signs of earnest past-honoring, he'll be very happy.
That's a great indicator: are you most happy in fan-happiness or in fan-rage?
Com station
Emory Alexander wrote about episode 120:
I appreciate your take on this obviously subjective topic. As a reader, and aspiring writer, I like to use Philippians 4:8 as a set of guidelines or even parameters. Whatever we read or write, we will, of necessity, think about. This means that I want to read and write books that are just, pure, lovely, of good report, virtuous and praiseworthy. However, the first two descriptions in the list are "true," and "honest," which means that the story must be honest and tell the truth. If the story is overly idealistic, it is not true or honest. If the story is too gritty, gory, sensual, etc… it violates the other requirements. It may take more work to stay within the Philippians 4:8 framework, but I believe it will make for a superior story. Thanks again and keep up the good work!
Meanwhile at Lorehaven
Subscribe for weekly reviews, great articles, and Lorehaven Guild access!
In August, Elijah David least a quest through N. D. Wilson's 100 Cupboards.
We're also planning back-to-school specials to help parents find great reads.
Next on Fantastical Truth
Now that Zackary Russell and E. Stephen Burnett have returned from their road trips, Stephen needs to catch Zack up on all the big Realm Makers news. Alas that this year, only Stephen could attend the conference and Zack could not. But Stephen did get to join Lorehaven staff creators like Josiah DeGraaf, Marian Jacobs, and L. G. McCary as well as review team member Jessica Boudreaux, and many Christian authors and Lorehaven sponsors. If you, like Zack, couldn't make it, Stephen will retell the whole experience.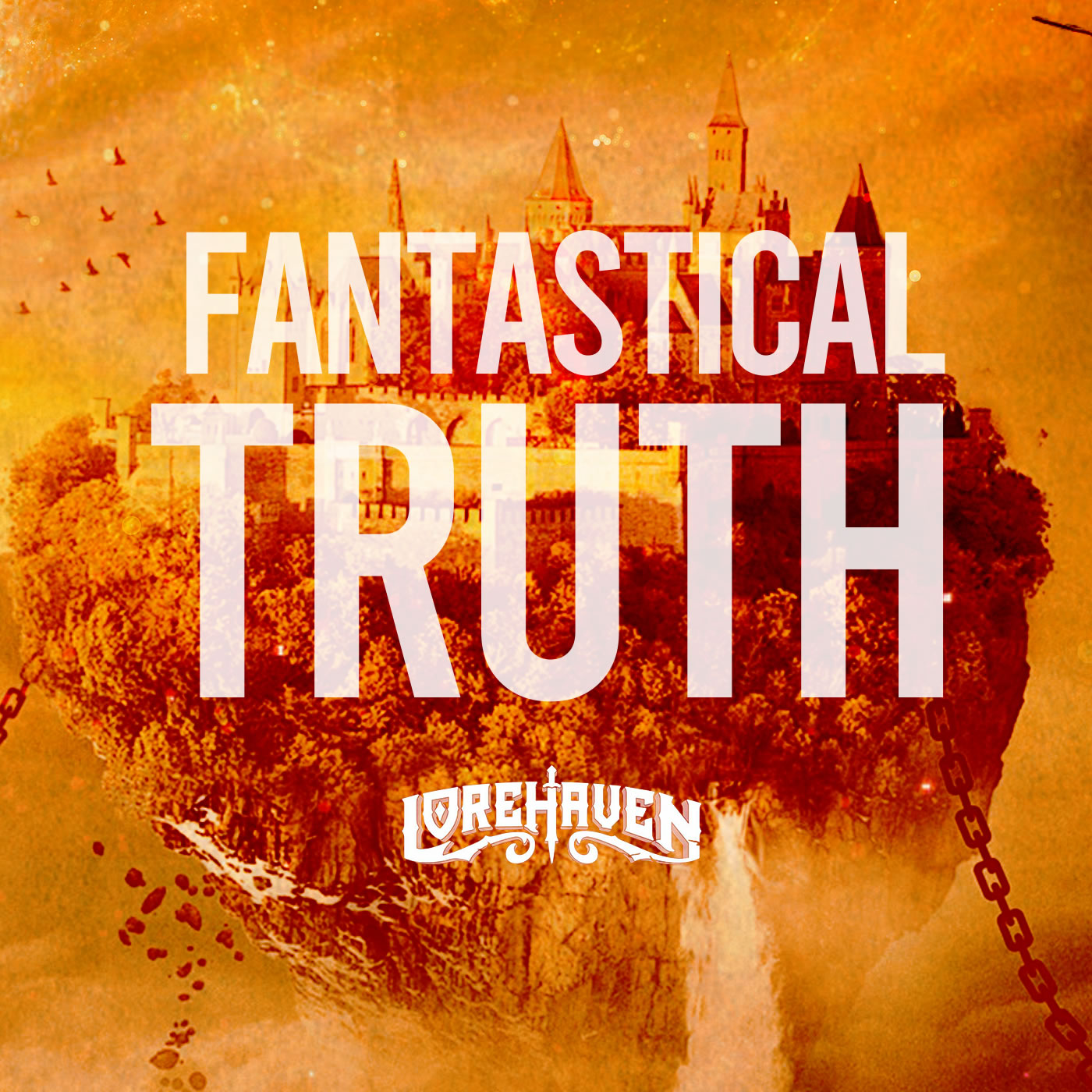 Fantastical Truth
Lorehaven
Explore the best Christian-made fantasy, sci-fi, and beyond, and apply these stories' meanings in the real world Jesus calls us to serve.
Share your thoughts with Fantastical Truth!