Podcast: Play in new window | Download (Duration: 52:59 — 49.8MB) | Embed
After we explored the resurrection of the saints, we continue our Epic Resurrection series and anticipate the future renewal of planet Earth.
In our last episode:
Epic Resurrection series
We made a few concessions, about our biblical basis, materialism, etc.
We explored the definition of "resurrection," biblical and otherwise.
We saw in Scripture how "spiritual body" still means "material" body.
Fact: any afterlife speculations must start with creation's goodness.
Now let's keep going:
Presuming this eternal reality, where do we live?
What do we do?
Do we go to Heaven?
What happens then?
What is "New Heavens and New Earth"?
Scriptures we cite
The infant will play near the cobra's den,
and the young child will put its hand into the viper's nest.
They will neither harm nor destroy
on all my holy mountain,
for the earth will be filled with the knowledge of the Lord
as the waters cover the sea.

Isaiah 11:8–9, NIV
For I consider that the sufferings of this present time are not worth comparing with the glory that is going to be revealed to us. For the creation eagerly waits with anticipation for God's sons to be revealed. For the creation was subjected to futility — not willingly, but because of him who subjected it — in the hope that the creation itself will also be set free from the bondage to decay into the glorious freedom of God's children.

Romans 8:18-21, CSB
But the day of the Lord will come like a thief, and then the heavens will pass away with a roar, and the heavenly bodies will be burned up and dissolved, and the earth and the works that are done on it will be exposed.

2 Peter 3:10, NIV

Then I saw a new heaven and a new earth, for the first heaven and the first earth had passed away, and the sea was no more. And I saw the holy city, new Jerusalem, coming down out of heaven from God, prepared as a bride adorned for her husband. And I heard a loud voice from the throne saying, "Behold, the dwelling place of God is with man. He will dwell with them, and they will be his people, and God himself will be with them as their God. He will wipe away every tear from their eyes, and death shall be no more, neither shall there be mourning, nor crying, nor pain anymore, for the former things have passed away."

And he who was seated on the throne said, "Behold, I am making all things new."

Revelation 21:1–5, ESV
Concession stand
Some verses may apply to a literal millennial kingdom. But why stop there?
Again, we're going to stay out of the "end times" debates. What's after that?
Why start by emphasizing New Earth's "normalcy"? Because miracles start here.
All other concessions (materialism, freedom to explore) are in episode 12.
We will explore:
Scripture promises the future, literal renewal (not replacement) of creation.
Let's start talking about the "normal world," and only then speculate further.
Always stay Scriptural and focused on King Jesus, architect of the Afterworld.
Why New Earth isn't a non-Earth
2 Peter 3:10's reference to judgement fire purifies, not obliterates Earth.
Much (accidental) ill has done by old translation phrase "burned up."
Prophecies in OT and NT emphasize continuity: natural wonders and cultures!
"New Earth" does not mean "non-Earth," just as "new body" doesn't mean "non-body."
"Well, we can't know so it's best not to imagine." Scripture never offers such warnings.
"This world is not my home." If world means age: true. If world means planet: false!
If God wanted to replace his creation with an alt-universe, he'd have said so.
Why it's good to dream of New Earth
Like with resurrection, it's good to practice biblical imagination of New Earth!
This biblical imagination "lights up" normal life on this Earth.
Instead of seeing our world as disposable, we start to see it as God's.
Instead of seeing our world as boring, we start to see more everyday delights.
"The Earth is the Lord's, and the fullness thereof" (Psalm 24:1). That fact does not "expire"!
Any sin that lasts forever (such as greed, lust, or selfishness) would end up destroying a person.
Only eternal happiness in holy, adventurous service to Jesus makes sense for eternity.
Jesus Christ is the center of the afterlife, and the Afterworld that comes after that.
Everything we do will be worship for him, not just creation, but "subcreation."
Some of our speculation
Space travel. Why not? Dry docks, better engines. Warp drive someday?
Time travel? Would we look back into history with redeemed eyes?
Science and tech will continue. Some ask: "Will we fly?" I say: "Yes, sure, in a plane!"
What role will angels and miracles have in the new creation?
What things will Jesus do to "shake things up"? Guide our daily choices?
Why would God stop creating fantastical creatures? What else can he make?
Even if we get no gryphons or dragons, I know the dinosaurs will be back.
"When we've been there ten thousand years …" Just the timescale boggles.
Quotes and notes
By calling the New Earth Earth, God emphatically tells us that it will be earthly, and thus familiar. Otherwise, why call it Earth?

When Scripture speaks of a "new song," do we imagine it's wordless, silent, or without rhythm? Of course not. Why? Because then it wouldn't be a song. If I promised you a new car, would you say, "If it's new, it probably won't have an engine, transmission, doors, wheels, stereo, or upholstery"? If a new car didn't have these things, it wouldn't be a car. If we buy a new car, we know it will be a better version of what we already have, our old car. Likewise, the New Earth will be a far better version of the old Earth.

The word new is an adjective describing a noun. The noun is the main thing. A new car is first and foremost a car. A new body is mainly a body. A New Earth is mainly an Earth.

The New Earth will not be a non-Earth but a real Earth. The Earth spoken of in Scripture is the Earth we know — with dirt, water, rocks, trees, flowers, animals, people, and a variety of natural wonders. An Earth without these would not be an Earth.

—Heaven, Randy Alcorn, page 158
Fantastic fans
love the podcast, I've been looking for something like this for a while. Thank you.
PeteTrane reviewed Fantastical Truth on Apple Podcasts:
This is a great podcast that deals with christianity and fictional art. This podcast will not only help you to think biblically about the stories you read but will also expose you to some good christian writers. Thanks to Pop Culture Coram Deo Podcast for introducing me to this podcast.
'Deconversion' stories often follow similar patterns, regardless of what people are converting to or from. They might start out with one belief system, and may or may not have doubts about it. But eventually they have problems, questions or painful experiences, and then attach themselves to whatever relieves those questions or stresses.

And since the pattern has many similarities regardless of belief system, a deconversion story doesn't automatically prove one belief system wrong or right. Which, unfortunately, a lot of people don't realize.
What do you anticipate about living forever on New Earth?
Next on Fantastical Truth
If you bring back God's creation forever, what about human creations, such as art, books, music, stories, poems, websites, and podcasts? Will these get burned up in that purifying fire? In our next episode, to finish this series, we will link this journey with your journey as a Christian fantastical fiction fan.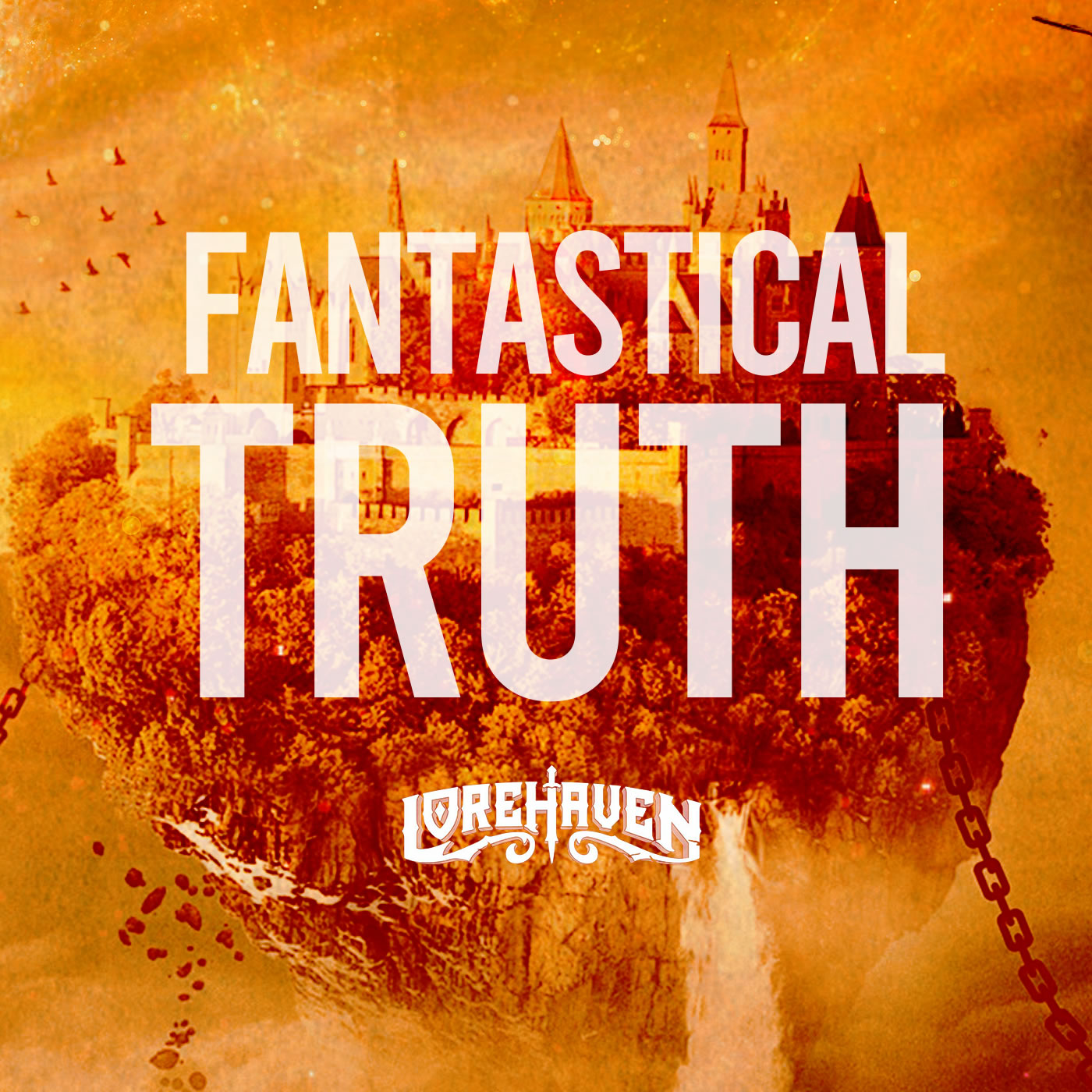 Fantastical Truth
Lorehaven
Explore the best Christian-made fantasy, sci-fi, and beyond, and apply these stories' meanings in the real world Jesus calls us to serve.
Share your thoughts with Fantastical Truth!