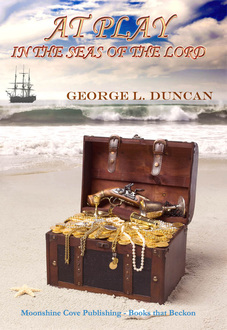 Author:
Ages:
Genres:
BookTags:
Publisher:
Lorehaven may use referral links. As an Amazon Associate, we earn from qualifying purchases.
The Diablo sank beneath the sea with $800 million in gold. It's a death ship, but two Christians are determined to find it. Contemporary fantasy for adult readers.
George L. Duncan · April 2012 · No comments
· for
adults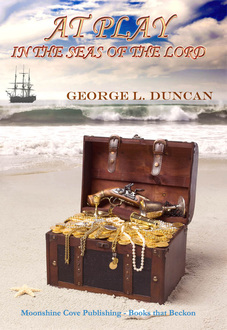 The Diablo sank beneath the sea with $800 million in gold. It's a death ship, but two Christians are determined to find it.
There is nothing more dangerous than a con man extraordinaire with a credible story. But Rutger Hollins not only has a credible treasure hunting tale, he has a gold doubloon and the backing of a respected, internationally known professor. Hollins wants divers to help him find the Diablo, a sunken Spanish treasure ship holding $800 million in gold and diamonds. Former police reporter and Christian Harrison Craig is skeptical but agrees to help Hollins, especially when he's told the stunningly beautiful Coral Delaplaine, also a Christian, has signed on for the voyage.
But a group of occultists is also searching for the vessel. The group is headed by Anton De Riles, a Black Arts master who has immense and deadly powers. But the Diablo has mysteries of its own. It hides a terrible secret and an ancient evil. Craig and Coral will fall in love during the voyage, but must battle on land, sea and under the sea and also fight supernatural demonic forces before they can claim the treasure. They must also fight the temptation that $800 million in gold can bring.
George L. Duncan's new novel, "At Play in the Seas of the Lord," is possibly his finest achievement to date, and that's saying a lot considering the high quality of his first four books. "At Play" is a modern-day treasure-hunting adventure and sparkles with savvy, stylish prose, witty, believable dialogue, and profound spiritual insights. Duncan has earned a place among the finest Christian novelists working today. He is never preachy nor does he have any need to; his characters' dialogue and actions say it all. While Duncan's emphasis is on the Light, he is not afraid to acknowledge the Dark, or tangle with the supernatural. Although Christians will love this book, one does not have to be a Christian to appreciate Duncan's work. His prose, dialogue, wit, humor, fast-paced action, well-developed and believable characters will keep the most jaded skeptics as well as believers turning pages.

— Chip Ballard, author of Peace River, The Snapshot & Other Stories: Tales from Flowing Wells, Literary Escapades, and the upcoming Literary Escapades – Vol. 2: Front Porch Ramble.