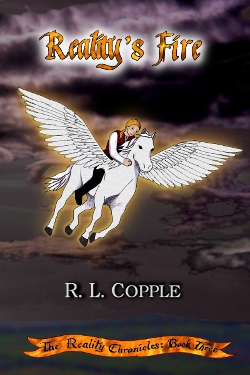 Author:
Ages:
Genres:
BookTags:
Publisher:
Lorehaven may use referral links. As an Amazon Associate, we earn from qualifying purchases.
Destinies are forged in the dark night. Kaylee and Nathan pursue a zombified Crystal to rescue her soul. A vision of death propels Gabrielle to chase after them. Her wizard friend, Josh, aids her quest. A religious leader seduces Kaylee to violate her morals. A demon seeks to bury the reality of the ring through deceit.
R. L. Copple creates a powerful ending to his middle grade, young adult fantasy trilogy based in a parallel world populated with magic, winged horses, the steam house, satanic forces, new races, humor, and a trip into Hades itself. Through the twisting journeys of each one, they encounter the ring's truth …
… Reality's Fire is revealed, and no soul can hide from its judgment.
Book 3 of the Reality Chronicles series.
Review:

Fred is a great storyteller, and his skill is on full display here.

This time the focus is primarily on Stan (the hero from the first book), his daughter Hannah, and her new friend, Cassie. The first book had consequences that Stan and Hannah are still dealing with, which by definition makes the tone of this novel more poignant. Darker. Then there are those visions that Hannah is having…

"The Seer" was a lightning-fast read for me. There was always just enough action or intrigue to keep the pages turning. I had a similar experience with the first book. These stories really are like something you'd see on a fantasy version of "The Twilight Zone." Fast-paced and fun until the end.

— Kerry Nietz
Book 3 of the Reality Chronicles series.
Normal
0
false
false
false
EN-US
X-NONE
X-NONE
/* Style Definitions */
table.MsoNormalTable
{mso-style-name:"Table Normal";
mso-tstyle-rowband-size:0;
mso-tstyle-colband-size:0;
mso-style-noshow:yes;
mso-style-priority:99;
mso-style-parent:"";
mso-padding-alt:0in 5.4pt 0in 5.4pt;
mso-para-margin:0in;
mso-para-margin-bottom:.0001pt;
mso-pagination:widow-orphan;
font-size:11.0pt;
font-family:"Calibri","sans-serif";
mso-ascii-font-family:Calibri;
mso-ascii-theme-font:minor-latin;
mso-hansi-font-family:Calibri;
mso-hansi-theme-font:minor-latin;}