Stephen and Zack explore which Lorehaven stories made the biggest impact on you, and catch up with several story updates.
Fantastical Truth
on Jan 11, 2022
·
No comments
Podcast: Play in new window | Download (Duration: 1:31:09 — 84.8MB) | Embed
Last year at this time, Lorehaven went all-digital: new articles every month, podcasts on Tuesdays, reviews on Fridays, plus news updates and other resources to help Christian fans explore fantastical stories for God's glory. Today, we're exploring which stories made the biggest impact on you, and catch up with the story creators who react to your reactions.
articles • news • library • reviews • podcast • gifts • guild
Episode sponsors
Top Ten Lorehaven Stories in 2021
You can hear these complaints cross the Christian Interwebs:

"So-and-so author has ruined his stories by becoming too woke!"

"The LGBTQ+ Lobby is ruining stories."

"Why can't people just focus on good stories without politics—like they used to?"

We've heard complaints about secular storytelling before. Just look at the Disney boycotts back in the 1990s. Today, some particular controversies and language are different. For example, we say "cancelling" instead of "boycotting." The underlying question is the same: should we read or watch stories with secular themes?

A new wave of Christian or Christian-adjacent pundits are answering no. They may not all demand to cancel shows, but they do prefer keeping them out of their lives.
Josiah's update:
Apart from reiterating that I'm not talking to authors nor am I dealing with explicit elements, one thought I have as I reflect on that article and its responses is that this is likely going to become more and more of a challenge for Christians to deal with as Christian influences continue to wane in the West. Unless we just retreat into enclaves a la the Benedict Option, we're going to have to deal with fiction containing hostile messages and have a realistic game plan for how much of it we should be consuming and–more importantly–how we are consuming it (and encouraging others to do so). One might argue that mimicking a certain Duke Leto by being noble and yet cunning in our consumption and response to pop culture can give us a path forward.
Lorehaven offers these fantastic gift options for Christian fantasy fans, including five exclusive wearable designs.

Revenues support the mission of Lorehaven magazine: paying reviewers, designers, and editors!

Note: You can find each wearable design in other forms: hoodie, T-shirts, V-neck T-shirts, and long-sleeved shirts! See the full online store.

Also note: For T-shirts, women's sizes in particular skew smaller. Order one size over the size you'd usually choose.
Where did Jesus's apostles come from? What was Peter doing, or Matthew, before the Savior arrived on Earth and called them to leave their jobs and follow him? Moreover, how much can Christians ask these kinds of questions—or even create movies, or a whole streaming drama series, to explore this?

That's what we explore today, especially about the fantastical biblical drama series The Chosen.
Once upon a time, we had fun going to the internet. It was a magical world in a far-off place, full of wonders. But then giants invaded and took over the land, wielding powerful algorithms. Cybernetic zombies spawned and assimilated people into ever growing factions and armies. Now our once-beautiful digital realm has the hallmarks of a hellish battlefield. Even worse, the barrier between our world and this newly polluted cyber world weakened and tore. The giants and zombies threaten to consume everything else we love.
Christians are feeling inspired, confused, fearful, delighted, and challenged because of one biblical fiction TV series, The Chosen. …

However, the idea of biblical fiction also raises many questions among Christians.

For example, I've seen many questions in The Chosen fan forums. (These are now growing in popularity since the series started gaining more fans, around Easter 2020.) After fans read biblical fiction books or watch biblical fiction films, they ask:

What type of story is this?
How does it differ from Scripture?
Should these differences cause us alarm?
What about Christians who might confuse reality and fiction?
What do you think of the general concern some people have about representing Christ in any visible way, which can lead people to soft-idolatry? The issue, as I've seen it stated is thus: if seeing a painting of Jesus or watching a movie about Jesus causes the viewer to feel more "connected" to Jesus or in some way more "drawn" to Jesus, does this not constitute a violation of the Second Commandment, in that the physical depiction of our Lord is a worship aid, an image, and as such generates a false worship via the imagery–the eyes–instead of a true worship via faith–in the heart?
In 2013, I had just given birth to my second child. Pregnancy insomnia hit me hard and never left. When my daughter was still a newborn, a friend let me borrow Divergent. Before long I was completely engrossed. I read day and night when I was up nursing the baby. And in those wee hours of the morning, pages turned, my mind raced, and I got even less sleep. My anxiety already bordered on PTSD after my husband and I suffered a near-fatal car accident, and now it soared to new heights. So after reading the first two books in the series, I stopped.

Divergent's sexual content and teen angst already violated my personal standards. But I had to stop reading for another reason. Regardless of the author's intent, the books seemed to be written to hurt me by making me even more anxious.
I made it clear I believe authors may not know the harm their stories cause. Authors can wield tension in good ways for the reader's good, or in bad ways against a reader's good.

My own readers responded differently to that piece. Some agreed. Others thought I was criticizing all books with high-running tension or dark themes.

Because of this misunderstanding, I've spent the last several months reassessing how to better communicate this idea. We can't simply jump into heated discussion about story tension. First, we need to go back a few thousand years and scrutinize the story of one man whose life held more tension than we will ever face: Job.
Does Lorehaven offer a print magazine?

When we started Lorehaven in 2018, we offered a quarterly print magazine. Free subscribers could download PDF copies, or purchase print copies from a third-party vendor. We showcased these products at homeschool and writers' conferences.

Then, everything changed when the 2020 pandemic lockdowns attacked.

In 2021, we shifted away from quarterly print issues and moved to a monthly all-digital model. Anyone can still subscribe to updates, yet anyone can read our articles, news, reviews, and other content. We feel this open-access approach is the best way to grow interest in excellent Christian-made fantastical novels.

You can find our twelve magazines (including nine PDF versions) archived here.
I've long applauded Christian artists engaging mainstream culture. It's why I write my Reagan Moon paranormal thriller novels for the general market and no longer publish content labeled "Christian fiction." It's also why I've taught workshops for Christian authors about writing for the general market. It's why I've blogged about "The Christian Crossover Novelist," and it's why I've asked, "Is Writing in the General Market LESS of a Ministry Than Writing for Christians?"

But as much as I'm an advocate for Christian influencers in secular circles, I've lately found myself wondering if it isn't in fact time for a new Christian subculture. Or, to put it another way, a tactical withdrawal.

So what caused me to change my mind? Let me explain.
We are reaching thousands of readers and podcast listeners.

These are not just other writers. These are new fans: kids, young adults, and grown-ups who enjoy Christian-made, fantastical novels.

We share specific reader, listener, and social media fan totals in our Advertising Guide (available upon request).
It's not often critics accuse a Christian historical romance novel of "racism" and "glamorizing genocide." Yet a vocal contingent of romance fans leveled these charges while demanding the Romance Writers of America (RWA) rescind its 2021 Vivian Award to Christian historical fiction novelist Karen Witemeyer for her novel At Love's Command.

RWA voters awarded At Love's Command in the category of "Romance with Religious or Spiritual Elements." Days later, the association stripped Witemeyer's book of its award.

Why are critics hating At Love's Command?

The controversy concerned the male lead, a cavalryman who participated in the Wounded Knee massacre of Native American women and children, and his later search for redemption. At Love's Command portrays the protagonist as anguished about his actions and seeking atonement.

Back in the real world, the mob offers no such forgiveness.
Com station (Echoes from the Guild)
Shoutout to Dr.Dave, first new hero to enter the Guild on New Year's Day, who said:
A Happy New Year! A year full of God's infinite Grace and goodness, health to you all my brothers and sisters!
Next on Fantastical Truth
Amazon just concluded their Wheel of Time season 1, and they really want you to watch it and like it. Zack just watched it, and he really wanted to like it. He and our recent guest Shane Morris are big Robert Jordan fans, but the show is another matter. Together they'll explore how Christians can best respond when secular showrunners break canon and break fans' hearts.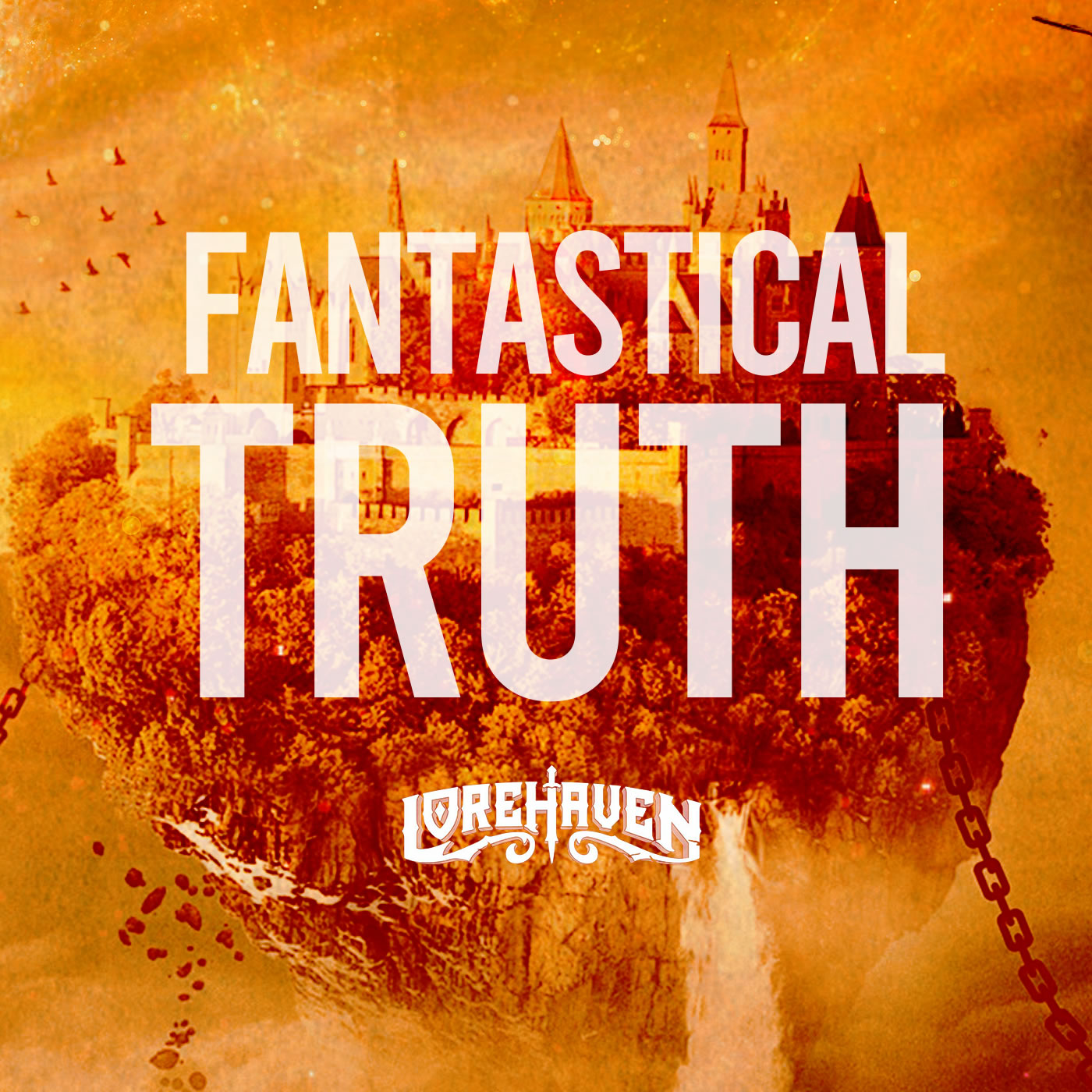 Fantastical Truth
Lorehaven
Explore the best Christian-made fantasy, sci-fi, and beyond, and apply these stories' meanings in the real world Jesus calls us to serve.
Share your thoughts with Fantastical Truth!