In anxious times, it's not healthy for stories to destroy us emotionally.
In 2013, I had just given birth to my second child. Pregnancy insomnia hit me hard and never left. When my daughter was still a newborn, a friend let me borrow Divergent. Before long I was completely engrossed. I read day and night when I was up nursing the baby. And in those wee hours of the morning, pages turned, my mind raced, and I got even less sleep. My anxiety already bordered on PTSD after my husband and I suffered a near-fatal car accident, and now it soared to new heights. So after reading the first two books in the series, I stopped.
Divergent's sexual content and teen angst already violated my personal standards. But I had to stop reading for another reason. Regardless of the author's intent, the books seemed to be written to hurt me by making me even more anxious.
As we've covered, books can help you restore your soul "when sorrows like sea billows roll." Now I'd like to focus more on what not to read. During challenging seasons, do we turn to soul-satisfying stories, or to novels that have the potential to tear us apart?
Series: Stories Can Help Us Heal
I don't suggest we avoid adrenaline-inducing stories altogether. Instead, let's be mindful about which stories we read, how often we read them, and how they can even harm us.
How high-tension stories can cause you harm
After my Divergent encounter, I began to see a troubling story trend emerge: the formula some authors use to make their book un-put-downable. The formula often gets results. No matter what time at night you say you will stop reading, that page-turner won't let you go until 2 o'clock in the morning.
How do they do it? Simply put, they use a perfect balance of promises and high-running tension. Every story needs promises and tension, but the higher and more often the story's tension rises, the more often adrenaline is released into your veins. This feeling, if overdone, can be addictive and harmful.
If you're a daily reader of these books, their constant pumping of the fight-or-flight hormone can lead to all kinds of health problems, such as digestive issues, headaches, insomnia, and depression. More importantly, these books can become spiritual stumbling blocks for anyone who struggles with anxiety. Before you read these kinds of book, it helps to recognize the season of life you're experiencing and how much daily stress you're already enduring.
In Divergent, if the story introduced lovable characters, it was inevitable they would either turn against the protagonist or die. If the love interest begged the protagonist to stop putting herself in danger, she would be sure to put herself in danger all the more. And if you've read the series, you know how that turned out.
In my case, I decided I could no longer trust that author with my emotions.
Understanding the effects of stories that 'destroy' you
After sunset, when our bodies begin to produce melatonin, our adrenaline levels should be at the lowest point. Yet this is the time of day we often choose to read adrenaline-inducing novels.
You might be reading this thinking, "I never have problems falling asleep, so I'll just keep reading however and whenever I like." But these problems don't always appear immediately. They can take many years to come to fruition.
Years after my anxiety struggle, I'm being treated by a functional neurologist for the maladaptation of my fight-or-flight response. This means that not only am I fighting a spiritual battle with anxiety, but my body no longer has the ability to turn off that response (which has led to all the health problems I listed above). Had I been aware of the damage I could do back then, I would have been more prepared to put down the book after the first few chapters and seek more help with my PTSD.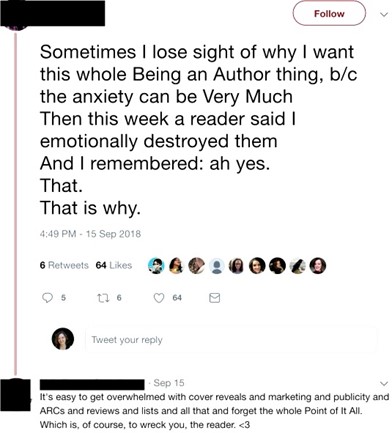 So do authors really want to hurt you? Yes, some of them do. Below is a tweet and comment I read back in 2018 that perfectly captures the some writers' attitude:
Sometimes I lose sight of why I want this whole Being an Author thing, b/c the anxiety can be Very Much

Then this week a reader said I emotionally destroyed them

And I remembered: ah yes.

That.

That is why. . . .

It's easy to get overwhelmed with cover reveals and marketing and publicity and [advanced review copies] and reviews and lists and all that and forget the whole Point of It All. Which is, of course, to wreck you, the reader.1
I find the language in the comment most disturbing—that wrecking the reader is "the whole Point of It All." I think we can all agree that tension is necessary for a story. Without it, there is no story. Without conflict, it's all just ponies and rainbows.
But, in my estimation, authors should make a first priority to care for their reader's betterment. Authors can create tension and realistic darkness in such a way that takes the reader's heart on a journey of bad to better, from mediocre to superior.
Perhaps in 2020, you also went through the dark night of the soul. If so, if I hope to encourage you to be proactive with your spiritual, emotional, and physical health.
God didn't create us in parts and pieces. We are whole beings.
What we do with our minds also affects our bodies, which also affects our relationship with the one who made those bodies.
In such times, when personal tensions run high and we must combat anxiety, we need a spirit of thankfulness in combating anxiety (Philippians 4:6) and self-control (Galatians 5:23). It's difficult to put down a book when all you want is to find out what happens next. Stop and pray that God would grant you wisdom and self-control to read what will edify and build you up rather than "wreck you, the reader."
Tweets dated Sept. 15, 2018, preserved via screenshot. ↩